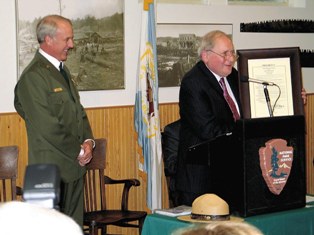 News Release Date:
July 15, 2009
Contact: Jim Northup, 906-387-2607, ext. 202
MUNISING, Mich. - A standing room only crowd packed the Alger County Heritage Center on June 30 for a celebration of the new Beaver Basin Wilderness at Pictured Rocks National Lakeshore, which was officially created with President Obama's signature on the Omnibus Public Lands Management Act on March 30, 2009.
U.S. Sen. Carl Levin, who introduced the legislation creating the wilderness area along with U.S. Sen. Debbie Stabenow, was the keynote speaker at the event, which was held at the Heritage Center after poor weather forced cancellation of plans to have the celebration at Miners Castle.
Senator Levin congratulated the National Park Service and the community for working together to achieve the designation and presented a framed copy of the Bill to Superintendent Jim Northup. Other speakers included Acting Midwest Regional Director David Given, representatives of Senator Stabenow and Governor Jennifer Granholm, Michigan Department of Natural Resources Upper Peninsula Field Director Stacy Welling, State Representative Steve Lindberg, Munising City Manager Doug Bovin, and local conservationists, authors and photographers Scot Stewart and Eric Hansen.
The Beaver Basin Wilderness includes 13 miles of stunning Lake Superior shoreline from Spray Falls on the west to Sevenmile Creek on the east. The wilderness includes three beautifully clear inland lakes, five cold water streams, extensive wetlands and beech-maple upland hardwoods and wonderful opportunities for quiet, solitude, wilderness recreation, physical challenge and spiritual renewal. The area includes 8.4 miles of the North Country Scenic Trail, 8.5 miles of connector trails and 6 designated backcountry campsites.
Pictured Rocks National Lakeshore Superintendent Jim Northup said that the designation represented an "important conservation achievement but also celebrates the culmination of an important democratic process," represented by the five-year long public planning process that led to the park's 2004 General Management Plan.  
During that planning process some people wanted more wilderness, some people wanted less, but over 95% of the people who commented on the proposed alternatives supported preserving a portion of Pictured Rocks as federally designated Wilderness. "What we celebrate today is not only the permanent legal protection provided to this portion of the park by this designation, but the active participation of the public and the blending of ideas in developing a collective vision for managing these  public lands," Northup said.
With formal wilderness designation, public access and use of the area will remain essentially the same as this portion of the park has been managed as a roadless/backcountry/wilderness area for more than 25 years, Northup said. Traditional recreation uses will continue including hunting, fishing, day hiking, overnight backpacking, canoeing, kayaking, cross-country skiing, snowshoeing and more.  
"That said, we are delighted that the U.S. Congress has decided to provide permanent legal protection to this part of the park and this is a very important step in fulfilling the vision contained in our General Management Plan," Northup added.
The celebration concluded with a rousing rendition of "This Land is Your Land" led by local musician Corrine Rockow and a guided hike into the Wilderness led by the park's Chief of Heritage Education Gregg Bruff.