Date:
June 22, 2009
Contact:
Gregg Bruff
, 906-387-2607, ext. 208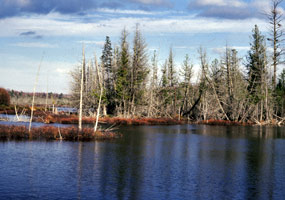 (Munising, MICH.) Pictured Rocks National Lakeshore invites the public to attend a celebration of the establishment of the newly-designated Beaver Basin Wilderness.
The celebration will be held Tuesday, June 30, 2009, from 3:30 to 5 p.m. at Miners Castle, ten miles northeast of Munising, Michigan. It will be free and open to the public.
The featured speaker will be Michigan Senator Carl Levin. Scot Stewart, nationally known wildlife photographer and Lakeshore enthusiast, will also share his remarks on the value of wilderness. Other state, federal and local officials have been invited. The program will include music by Corrine Rockow.
"While celebrating this addition to the National Wilderness Preservation System here at the Lakeshore, we will also recognize the Lakeshore's dedicated Adopt-a-Trail and Adopt-a-Campsite volunteers," said Pictured Rocks National Lakeshore Superintendent Jim Northup.
After the ceremony, ALTRAN buses will transport those interested in hiking within the new wilderness to Little Beaver Lake Campground for a Park Ranger guided walk out to Beaver Creek.
President Obama's signature on the Omnibus Public Lands Management Act on March 30, 2009, officially established 11,740 acres of the National Lakeshore as the Beaver Basin Wilderness. The designation of this wilderness fulfills an important element of the park's 2004 General Management Plan and provides permanent legal protection for this spectacular part of the park. In gratitude for the region's citizens to participate in supporting that proposal, park staff look forward to sharing this event with a wide audience.
With formal wilderness designation, nothing will change about public access or use of this portion of the park, which has been managed as a backcountry/wilderness area for over 25 years, Northup added. The Beaver Basin Wilderness, which constitutes only 16 percent of the total acreage in the park and involves no new federal land or expansion of the park, remains open to the public for every form of recreation currently available in the Beaver Basin including hunting, fishing, day hiking, overnight backpacking, canoeing, kayaking, cross-country skiing and snowshoeing.
"We're incredibly excited to be hosting the celebration of Michigan's newest wilderness area," said Northup. "We hope to see everyone there."
more ...