Date:
April 18, 2006
Contact:
Larry Hach
, 906-387-2607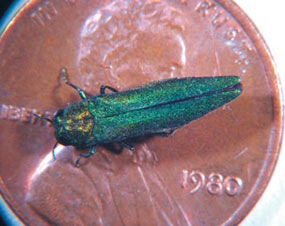 To prevent the potential spread of emerald ash borer, Pictured Rocks National Lakeshore will implement a ban on ash firewood effective May 1, 2006. Ash firewood is a carrier for the emerald ash borer, a small exotic insect that has infested downstate trees.
The emerald ash borer (
Agrilus planipennis
) is an exotic wood boring beetle discovered in southeast Michigan in the summer of 2002. Emerald ash borer (EAB) is believed to have arrived in Michigan on wood packing material from Asia some 6-10 years ago. The beetle, which only attacks ash trees (
Fraxinus
sp.), is capable of killing trees of all sizes, including trees that appear to be healthy. The beetle has killed over 6 million trees in southeast Michigan to date.
"Emerald ash borer larvae kill ash trees by feeding and tunneling in the cambium, the layer of living material just under the bark that transports food and water throughout the tree," according to Lakeshore Superintendent Jim Northup. "Extensive feeding in the cambium disrupts the flow of food and water which eventually girdles and kills the tree. Our concern stems from the fact that ash trees are common in wetland areas within the Lakeshore and throughout the Upper Peninsula. Retaining native vegetation is key to overall National Park Service policy."
To prevent and control the spread of EAB, the Michigan Department of Agriculture has quarantined 13 counties in southeast Michigan. The quarantine prohibits the movement of ash, ash products, EAB, and any species of firewood outside of the quarantined counties. The State of Michigan has also banned the transport of firewood from the Lower Peninsula into the Upper Peninsula, and has banned ash firewood from any state campground facility.
Pictured Rocks National Lakeshore is prohibiting the import of all ash firewood to reduce the potential for EAB to become established in the park. This ban on importing ash firewood into the lakeshore is consistent with the Michigan Department of Agriculture and Department of Natural Resources policy.
"In addition, should illegal firewood be imported to the Lakeshore, it must be immediately burned on site, reducing the potential of exotic insect invasions and eliminating the possibility of transferring invasive insects to other areas," Northup added. This restriction is similar to that used at Tahquamenon Falls State Park.
Park Rangers will make special efforts to visually inspect firewood at campgrounds and other areas during routine patrols and fee collection. A fine may be levied on persons bringing firewood into the park.
"The introduction of exotic species - both terrestrial and aquatic - is one of the greatest threats to the ecological integrity of the national lakeshore," said park superintendent Jim Northup. "In combating this pest species and others, we ask the public to join us in helping to preserve and protect the natural systems in the park for this and future generations."
For additional information, contact Chief Ranger Larry Hach at 906-387-2607.