Au Sable Day 2011
Date:
September 12, 2011
Contact:
Dave Kronk
, 906-387-2607, ext. 206
Contact:
Gregg Bruff
, 906-387-2607, ext. 208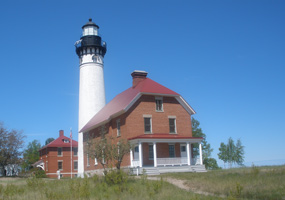 On Saturday, September 24, in celebration of National Public Lands Day, Pictured Rocks National Lakeshore will host the annual "Au Sable Day" at the historic 1874 Au Sable Light Station near Grand Marais. The event runs from 11 a.m. to 4 p.m.             

The day includes a free Altran shuttle to the lighthouse from the Hurricane River Campground, free tours of the light station, tower, and facility photovoltaic system. Complimentary cider and donuts will be available. 

"This is a special opportunity for area residents to visit Au Sable on a beautiful fall color day," remarked David Kronk, Education Park Ranger. "The maritime museum and Eastern National bookstore will also be open, and there will be special games for children.  Plan to visit and learn more about the beautiful Au Sable Light Station, the fascinating maritime history of the area and how you could help out with projects at the light station." 

To reach the Au Sable Light Station, enjoy a beautiful drive on Alger County Road H-58 to the Hurricane River Campground. The drive is 11 miles from Grand Marais and 41 miles from Munising. For those who would like to hike to the lighthouse, it is 1-1/2 miles one-way from the campground.             

National Public Lands Day began in 1994 and is a program of the National Environmental Education and Training Foundation involving federal, state and local public land agencies as well as not for profit organizations. One goal of the program is to educate Americans about critical resource issues and the need for shared stewardship of these valuable, irreplaceable lands. Another goal is to build partnerships between the public sector and the local community based on mutual interests in the enhancement and restoration of America's public lands.             

For more information about the Au Sable Day, please contact the Interagency Visitor Center at 906-387-3700.    
 
Last updated: April 10, 2015