Date:
September 13, 2013
Contact:
Amber Tembreull
, 906-387-2607 x228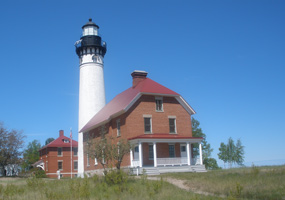 GRAND MARAIS, Mich.  Pictured Rocks National Lakeshore invites you to their annual Au Sable Day on Saturday, September 21. This special event includes free disabled accessible bus shuttle service to the lighthouse from the lower Hurricane River Campground, tours of the light station and fog signal building, and refreshments.  

Au Sable Day celebrations run from 11 a.m. through 4 p.m. Visitors wishing to take the free ALTRAN shuttle bus should board at the Hurricane River bridge or lower campground parking lots. Hurricane River Campground is 12 miles west of Grand Marais, Michigan, on Alger County H-58. It is a three mile round trip walk from the campground to the light station. 

The Au Sable Light Station was constructed in 1874, and has shone its light to guide mariners for nearly 140 years. Its location on the Au Sable reef of Jacobsville sandstone was an important aid to navigation before maritime electronics became commonplace. 

Join us for a beautiful fall color day looking out over Lake Superior! 

For additional information, please contact the Grand Sable Visitor Center at 906-494-2660.