Date:
September 5, 2007
Contact:
Gregg Bruff
, 906-387-2607, ext. 208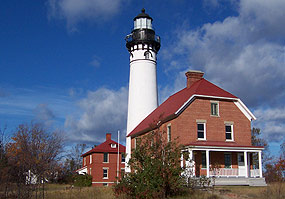 Pictured Rocks National Lakeshore extends an invitation to area residents and visitors to celebrate the Au Sable Light Station's 133rd birthday, Saturday, September 29. Au Sable Day hours will be 11 a.m. to 3 p.m.
To reach the Au Sable Light Station, drive west from Grand Marais on Alger County Road H-58 approximately 12 miles to the Hurricane River Campground. The light station is a 1-1/2 mile walk from the campground.
The day's celebration will include tours of the station, tours of the photo-electric system, and discussions about current restoration of the cultural landscape. The maritime museum, located in the head keepers quarters, will be open for Au Sable Day. Exhibits include the history of shipping, lighthouse beacons, and daily life of a light keeper. Refreshments will be served.
Altran wheelchair accessible van transportation will be available at the lower Hurricane River Campground parking lot. There is no charge for this service.
However, once the van arrives at Au Sable, getting around the site is up to the individual. Visitors should be aware there are very sandy soils, narrow sidewalks, and only the boathouse is accessible on one floor. The other buildings require climbing steps.
The Au Sable Light Station was constructed in 1874 for a sum of $40,000. It originally consisted of a dock, the keeper's quarters, and the attached light tower. Over the years several buildings were added, including the fog signal building in 1897 and a head keeper's quarters in 1910. The National Park Service has been engaged in restoration projects at the station for the past 20 years.
Come out and enjoy a beautiful fall day celebrating the most prominent of the Lakeshore's historic features. September 29 is also National Public Lands Day.
For additional information, contact Chief of Heritage Education Gregg Bruff at 906-387-2607, extension 208.