Date:
September 10, 2009
Contact:
Pam Baker
, 906-387-3700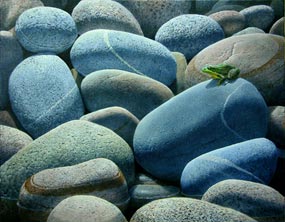 Pictured Rocks National Lakeshore is pleased to announce the Artist In Residence for 2009 is John Agnew from Cincinnati, Ohio.
John is a painter of nature. His hyper-realistic style evolved from 30 years of experience as an illustrator, muralist and exhibit designer for natural history museums and zoos around the country and even as far away as Moscow. In 2007, John won the $10,000 Grand Prize in the national juried show, "Paint the Parks," with his scene from Pictured Rocks. The same year, he won the Award of Excellence in the Society of Animal Artists' annual show, "Art and the Animal."
During the month of September, John will be staying in the park. If you happen to see him in his journeys through the lakeshore, he is more than happy to talk with you about his work.
John says, "While I intend for my paintings to be accurate representations of nature, I believe that under every good realist painting, there is a good abstract. Nature is ultimately the inspiration for every artist, but beyond seeing beautiful patterns and colors, I also see fascinating stories."
John will present a program of his work along with an exhibit of his drawings at the Alger County Heritage Center on Wednesday, September 23, at 7 p.m. The Heritage Center is located at 1496 Washington Street in Munising.
Please contact Pam Baker at 387-3700 for further information.