Date:
September 11, 2009
Contact:
Jim Northup
, 906-387-2607, ext 202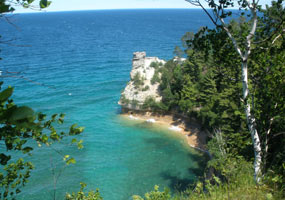 Pictured Rocks National Lakeshore Selected for the America the Beautiful Quarters™ Program.
Coin will be released in 2018 by the U.S. Mint.
Michigan - Pictured Rocks National Lakeshore will be featured on a quarter-dollar produced by the U.S. Mint in 2018. It will be the 41st of 56 quarters issued in the recently announced America the Beautiful Quarters program. Approximately every ten weeks, starting in April 2010, a new quarter depicting a national park or other federally preserved area will be released.
"It is an honor to have Pictured Rocks National Lakeshore selected to represent Michigan on the upcoming U.S. state quarter series," said Gregg Bruff, chief of Heritage Education at Pictured Rocks National Lakeshore. "The Lakeshore is known throughout the region and nation as a premier vacation destination."
Sandstone cliffs, beaches, sand dunes, waterfalls, lakes, forest, and shoreline beckon you to visit Pictured Rocks National Lakeshore. Hiking, camping, sightseeing, and four season outdoor opportunities abound. The Lakeshore hugs the Lake Superior shoreline for more than 40 miles. Lake Superior is the largest, deepest, coldest, and most pristine of all the Great Lakes.
Congress authorized the America's Beautiful National Parks Quarter Dollar Coin Act of 2008 to celebrate the nation's legacy of conservation. The legislation recalls noteworthy steps in the nation's preservation movement and quotes Theodore Roosevelt who said that nothing short of defending this country in wartime "compares in importance with the great central task of leaving this land even a better land for our descendents than it is for us."
The legislation directs the Mint to strike and issue 56 circulating quarter-dollars with reverse (tails side) designs showcasing a national park or other national site in each state, the District of Columbia and U.S. territories — Puerto Rico, Guam, American Samoa, the U.S. Virgin Islands and the Northern Mariana Islands. The quarters will be issued sequentially each year, in the order in which the featured area was first established as a national park or site.
The coins will feature 48 National Park Service areas, two U.S. Fish and Wildlife Service refuges, and six U.S. Forest Service sites. The Mint worked in consultation with each jurisdiction's governor or chief executive as well as Secretary of the Interior Ken Salazar to select the sites. The list was also approved by Secretary of the Treasury Timothy F. Geithner.
In addition to the coins for circulation, the Mint will produce collectable items including proof sets, silver proof sets, a five ounce silver bullion coin, coin bags, and coin rolls for each quarter. For more information about the America the Beautiful Quarters Program, please visit
http://www.usmint.gov/mint_programs/NSQuartersProgram/index.cfm