Date:
September 16, 2009
Contact:
Jim Northup
, 906-387-2607, ext. 202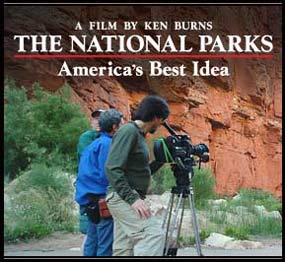 Pictured Rocks National Lakeshore Invites Public to Gather to Watch Premier of Ken Burns Film on National Parks
(Munising, MICH.) On Sunday, September 27, "The National Parks: America's Best Idea," a 12-hour, six-part documentary series, directed by famous film maker Ken Burns and co-produced with his longtime colleague, Dayton Duncan, will premiere on Public Broadcasting Service (PBS) stations nationwide. The full 12 hour program will air on six consecutive evenings, on WNMU Public Television Sunday, September 27 through Friday, October 2 (8 to 10 p.m. each evening).
Pictured Rocks National Lakeshore will hold a special viewing of the film hosted by the Falling Rock Cafe & Bookstore, beginning at 7:45 p.m. Sunday through Friday. The Lakeshore has leased a large screen television for the occasion, and the Café is providing a sound system that will allow for full enjoyment of the film and the excellent music that is included. A special dinner and dessert will be created each evening by the Cafe staff to honor the National Park Service. Lakeshore staff will also be present each evening to join in hosting the event and answer questions about Lakeshore operations.
Burns says that his film celebrates an idea as uniquely American as the Declaration of Independence and just as radical: that the most special places in the nation have been preserved, not for royalty or the rich, but for everyone - and for all time. As such, it follows in the tradition of his exploration and documentation of other American themes such as the Civil War, baseball and jazz.
"We are enormously excited about this film series and hope the public will join us at the Falling Rock to enjoy watching it together as a community," said Pictured Rocks National Lakeshore Superintendent Jim Northup. "I have had an opportunity to see the entire film, and while admitting to being a little biased, it is simply a masterpiece. It contains wonderful stories, spectacular images as you might imagine, and aspects of American conservation history that I think will be both new and interesting for many of us."
"While the film focuses on the national parks, the Lakeshore is specifically mentioned in the last episode, and we hope the community will join in celebrating having such a very special place right here in our own backyard."
"We also hope that this film inspires more people to enjoy and volunteer to serve as citizen stewards of these very special places. After all, this wonderful system of parks and historic places belongs to all of us, and preserves the very best of the American heritage. So, come out, enjoy the film and most importantly, get out there and enjoy your parks," Northup concluded.
For more information, please visit the America's Best Idea webpage on the National Park Service website --
https://www.nps.gov/americasbestidea/