Date:
January 9, 2012
Contact:
Chris Case
, 906-387-2607, ext. 209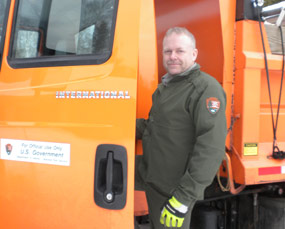 MUNISING, Mich.  Pictured Rocks National Lakeshore is pleased to welcome Allen Duszynski to the park staff. Duszynski will be serving as the park's new Equipment Operator, replacing Brad Bradley, who retired in 2010.

"We are very pleased to have Al on board," said Chief of Facility Management Chris Case. "Al brings a wealth of experience that will be important to our entire facility management program, but especially to our road work," Case added. 

"Al worked for the Schoolcraft County Road Commission for the past 11 years, and for the Fish and Wildlife Service at the Seney National Wildlife Refuge before that," Case said. "He is very well versed in the operation of all the heavy equipment at the park as well as an extremely capable 'utility' person and has already proven himself to be a great addition to our team." 

"Pictured Rocks National Lakeshore maintains paved and unpaved roads, drive in campgrounds, and parking areas as well as signs, culverts, drainages. road shoulders and grounds throughout the park," Case said. "As one can imagine, all of these roads and facilities require considerable maintenance attention. During the summer, Al will be focused on the park roads and developed areas. In winter, he will be involved in snow plowing and cross-country ski trail grooming along with repair and preventive maintenance projects throughout the park." 

"We are very happy to have Al as our newest member of our park staff," Case concluded.  Al, along with his son and daughter, currently lives in Germfask.