Date:
April 17, 2006
Contact:
Pam Baker
, 906-387-3700
Contact:
Gregg Bruff
, 906-387-2607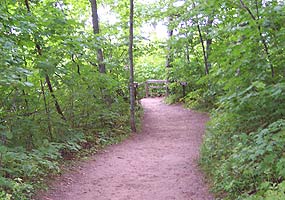 Pictured Rocks National Lakeshore announced a new "Adopt-a-Trail, Adopt-a-Campsite" program, as part of the park's overall Volunteer in Parks (VIP) program.
"As with many other public institutions, we need the assistance of volunteers to complement and supplement the work of our paid professional staff," Park Superintendent Jim Northup explained. "With over 100 miles of trail and 13 designated backcountry campsites, this is just as true in the backcountry as it is in the developed areas of the park."
A half-day orientation and training session for Adopt-a-Trail, Adopt-a-Campsite Volunteers was held Saturday, May 13, from 9 a.m. to noon, at the Munising Falls Interpretive Center located at 1505 Sand Point Road, across from the Munising Memorial Hospital. Additional sessions will be held as needed.
Under this new program, interested individuals or groups who love to hike and camp in the park can adopt a section of trail or a backcountry campsites. Adopt-a-Trail, Adopt-a-Campsite volunteers will be asked to visit their section of trail or campsite once a month from May through October for light maintenance duties including picking up litter, light brushing, cleaning out water bars, and breaking up illegal fire rings.
Volunteers will also be asked to fill out a brief one-page summary and to report on any larger issues that need to be followed up or completed by park staff. The park will provide a VIP uniform shirt and ball cap, basic tools and gloves, and written guidelines on the work to be performed.
The park's trail network has been sub-divided in 37 sections that are available for "adoption". Adoptable sections range from trails that are easily accessible and less than a 10th of a mile to one section of the North Country Trail that is 5.3 miles long. "There is something for every ability and level of interest," said Chris Case, the park's Facility Manager.
"We are actively seeking individuals who want to assist us as citizen stewards," Northup said. "We are hopeful there are a number of individuals in our surrounding communities who hike and enjoy the park's trails on a regular basis, and we are asking them to join with us in protecting park resources and contributing to the enjoyment of current and future generations. This is a great way to get outdoors, get some exercise, and be part of conserving America's first national lakeshore."
If you are interested in participating in this program, please call Pam Baker, the park's Volunteer in Park Coordinator, at 387-3700.