Date:
January 11, 2012
Contact:
John Kacich
, 906-387-2607, ext. 210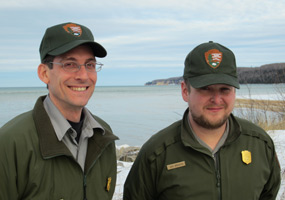 MUNISING, Mich. Pictured Rocks National Lakeshore is pleased to introduce two recent additions to the Administrative staff, Information Technology Specialist Joshua Brewster and Administrative Assistant Michael Schneider.

As the Information Technology Specialist, Joshua manages all activities involving the lakeshore's technological infrastructure, including computer hardware and software and telephone systems. He provides lakeshore employees with access to National Park Service (NPS) computer systems, email, and network resources and he troubleshoots problems that develop. In addition, Joshua is responsible for ordering replacements for outdated park equipment and coordinates the disposition of the old equipment.

"We are extremely pleased to have Joshua here," says Administrative Officer John Kacich. "For the past five years, we have sorely missed having information technology expertise here and Joshua's education and experience are a major asset to the park."

Joshua, his wife Autumn, and their children Isaac and Hannah, reside in Manistique. He attended Manistique High School and graduated from Okemos High School in lower Michigan. He is currently a student at Bay College in Escanaba pursuing a degree in Computer Information Systems. Previously, he attended college at the Community College of the Air Force, majoring in Munitions Systems. Joshua served in the United States Air Force from 1997 through 2007, where he met his wife Autumn, who is originally from northwestern Pennsylvania. He previously worked for the lakeshore in the summer of 2010 as a seasonal Maintenance Worker.     

"I'm very happy to be here and I look forward to providing services that have been missing at Pictured Rocks for the past few years," Brewster remarked.

As the lakeshore's Administrative Assistant, Michael Schneider coordinates the summer seasonal hiring process and annual accountable property inventory for the park, in addition to providing purchasing support. Pictured Rocks National Lakeshore typically hires 25 to 30 summer seasonal employees in a variety of positions. Michael is responsible for gathering hiring documentation from park managers and providing it to NPS recruitment offices. Once seasonal vacancies are announced and applicants are selected for positions, he facilitates the completion of the necessary forms documenting their employment.

Michael's other major responsibility is the reconciliation of the park's accountable property inventory of approximately 600 items. He maintains asset information in the NPS property management database and assists property custodians with the inventory of their property items.   

"Michael brings a strong customer service emphasis to Pictured Rocks. We are fortunate to have him join our staff," according to Kacich.

Together with his wife Misty and their children, sons Derek and Matthew and daughters Ashley and Abigail, Michael recently moved to Marquette from Beavercreek, Ohio, near Dayton, where he worked at the Beavercreek Christian Learning Center after retiring from the United States Air Force. Michael spent over 20 years in the Air Force, including several years at K.I. Sawyer Air Force Base as a B-52H Crew Chief, where he met his wife, Misty, originally from Asheville, North Carolina. He attended Northern Michigan University for part of his college education and has degrees in Human Resources Management and Aircraft Systems Maintenance Technology from the Community College of the Air Force. 

"It's great to be back in the Upper Peninsula, and I feel very fortunate and blessed to be working at Pictured Rocks," Schneider said.

Brewster and Schneider will work in the lakeshore's administrative division alongside Budget Technician Mary Jo Cook, who has 18 years of service at Pictured Rocks, and Administrative Officer Kacich, who has 8 years of service at Pictured Rocks.
About the National Park Service. More than 20,000 National Park Service employees care for America's more than 395 national parks and work with communities across the nation to help preserve local history and create close-to-home recreational opportunities. Learn more at www.nps.gov.