Date:
October 2, 2006
Contact:
Jim Northup
, 906-387-2607
Contact:
Gregg Bruff
, 906-387-2607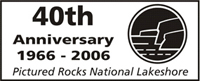 NEWS FLASH -- The celebration location will be the Mather Auditorium in Munising!
Pictured Rocks National Lakeshore is inviting the public to join in celebrating the 40th anniversary of the authorization of America's first National Lakeshore on Saturday, October 14, at 10 a.m. The event will be held at the Mather Auditorium at 411 Elm Avenue in Munising.
Following the celebration, a light lunch will be served and special tours of key locations in the park will be offered, led by members of the national lakeshore staff. Round trip transportation will be offered for individuals or families participating in the tours. Tour offerings will include a trip to the Au Sable Light Station, the Grand Sable Dunes and a hike to Chapel Beach.
"We hope very much that the entire community will come out and join us in celebrating the existence of this very special unit of the national park system," National Lakeshore Superintendent Jim Northup said.
The celebration will include presentations by Native American drummers and a special recognition of former Congressman Raymond F. Clevenger, who was instrumental in the establishment of Pictured Rocks National Lakeshore.