Date:
May 2, 2006
Contact:
Jim Northup
, 906-387-2607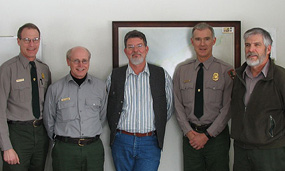 Pictured Rocks National Lakeshore now has a total of five employees recognized for 30 years of federal public service.
"The National Park Service is fortunate to have a large number of highly dedicated employees, some of the most dedicated in public service," said Park Superintendent Jim Northup. "We love what we do, and believe strongly in the mission of the Service. Any time any of our employees chooses to contribute 30 years of their lives to the work of the Service, we should certainly pause to say thank you and congratulations."
Gregg Bruff, the park's Chief of Heritage Education, started his federal career in 1974 at Ozark National Scenic Riverways in Missouri. He also worked as a Youth Conservation Corps Group Leader on the Mark Twain National Forest and the Inyo National Forest, and as a District Naturalist at the Saint Croix National Scenic Riverway. Bruff came to Pictured Rocks in 1988 and currently oversees the park's interpretation, outreach education, and cultural resource programs. Gregg was the regional winner of the National Park Service's prestigious Freeman Tilden Award for Excellence in Interpretation in 1991 and has served on several park planning details, including a 1995 archeological park project in the Sultanate of Oman.
John Ochman serves as Maintenance Foreman, and facilitates the asset management program at both Pictured Rocks and Keweenaw National Historical Park. John started his career in 1974 at Pictured Rocks as a seasonal laborer assisting with the development of the trail system. Prior to obtaining his first permanent position as a Restoration Specialist for the Midwest Regional Office in 1977, John worked at Apostle Islands National Lakeshore. John returned to Pictured Rocks in 1980. During his years at Pictured Rocks, he has been a leader in the stabilization and restoration of the 1874 Au Sable Light Station and other historic structures. In 1996, John received the Midwest Region Maintenance Employee of the Year award, and has served 23 National Parks throughout the country on various detail assignments.
Gary Vieth, a Maintenance Mechanic in the Maintenance Division, began his federal career with service in the military. He accepted his first National Park Service position on September 29, 1977, at Bent's Old Fort National Historic Site, Colorado, as a Living History Interpreter at the 1840's fur trading post. Gary joined the Pictured Rocks staff on December 27, 1981. He has been involved in a wide variety of projects from the construction and maintenance of campgrounds to the installation of photovoltaics at the Au Sable Light Station. Gary is a strong safety advocate, and was selected for the lakeshore's Employee Safety Recognition Award in 1999.
Facility Manager Chris Case has been at Pictured Rocks since 1989. He began his NPS career after receiving an Environmental Sciences degree at Northland College. His years with the NPS have provided opportunities to work in the Ranger, Interpretation, and Maintenance ranks at Everglades National Park, Biscayne National Park, Blue Ridge Parkway, Valley Forge National Historical Park, Apostle Islands National Lakeshore, and Voyageurs National Park. In addition to overseeing the facility operation at Pictured Rocks, Chris has been a member of various NPS task and training groups and leads the Lakeshore's Environmental Leadership program where the park has received several national awards. Chris recently received the Department of the Interior Environmental Achievement Award.
Larry Hach arrived at Pictured Rocks National Lakeshore in May 1993, and serves as the Chief of Visitor Services and Land Management. His first NPS position was at Bighorn Canyon National Recreation Area as a seasonal Park Ranger. Larry has also worked at Fire Island National Seashore, Everglades National Park, Voyageurs National Park, and Sleeping Bear Dunes National Lakeshore. At Pictured Rocks, Larry oversees the law enforcement, search and rescue, emergency medical services, fire, and safety programs. In 1984, he received the Midwest Region Safety Achievement Award for contributions to the protection of employees and visitors. Larry also served on the Midwest Region Special Events Team for 19 years, traveling across the country to assist parks with coordination of emergency services for special events.
"We are very fortunate to have Gregg, John, Gary, Chris, and Larry here as part of the Pictured Rocks team. Between just the five of them, we have the benefit of over 150 years of experience and I thank them very much for their work and their contributions," concluded Northup.