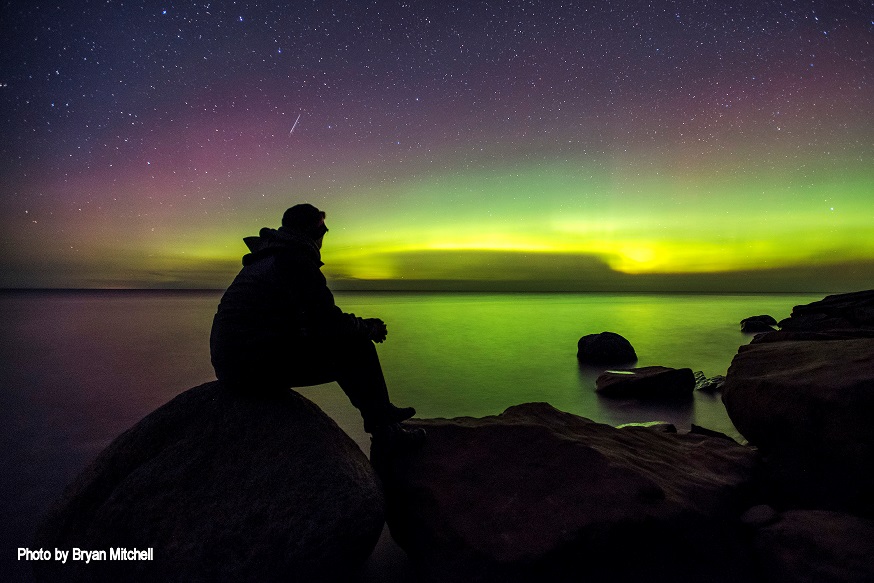 News Release Date:
October 5, 2016
Pictured Rocks National Lakeshore welcomes photographer Bryan Mitchell as the 2016 Artist-in-Residence (AIR). Born and raised in Michigan, Bryan Mitchell's love for photography and the outdoors will coincide and help the park celebrate its 50th anniversary on October 15.
Working as professional photographer for 28 years in southeast Michigan, Mr. Mitchell's work predominately encompasses photojournalism as a regular contributor to the Detroit News as well as a variety of other local, national, and European publications. In addition, he has does portrait and public relations work.However, his deepest passions are the outdoors, camping, mountain bikes, and capturing the beauty and life of the Upper Peninsula of Michigan. It is this work that he has historically done for himself, relaxing and living in the moment with no pressures or deadlines to meet. He is looking forward to sharing those images with the public (as well as with his wife and two kids). You can view a variety of Mr. Mitchell's work at:bryanmitchell.com (Click the link for specifically northern Michigan photography).
Mr. Mitchell will live, work, and contemplate the wonders of Pictured Rocks during the first two weeks of October. Through his work, the hope is to deepen visitor understanding and appreciation of Pictured Rocks.
The public is invited to join Mr. Mitchell on Friday, October 7, at 1:00 pm at the Munising Falls Visitor Center.  Mr. Mitchell will offer quick tips and simple ways to make your photos better with the camera you have, whether it's your phone, compact camera or DSLR. While not going in-depth about camera settings, these tips will be geared toward beginner and casual smart phone and camera photographers to help them capture better photos during their visit to the park.
Mr. Mitchell will also do a special presentation of some of the photos he has taken during his residency at the park's 50th anniversary celebration at 12 noon on Saturday, October 15, 2016 at Munising Falls. All programs are free.
The Artist-in-Residence program at Pictured Rocks National Lakeshore continues a tradition of art showcasing our national parks. Over the last century, national parks have inspired artists to create and share art that not only motivates and encourages millions of people to visit and explore, but also helps build awareness and develop stewardship of these beautiful public lands. The AIR program at Pictured Rocks NL began in 1986. More information about the program can be found on the park's website at https://www.nps.gov/piro/getinvolved/supportyourpark/artistresidence.htm. Applications for next year's residency will be accepted through December 31.