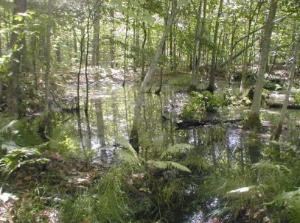 A wetland is a low-lying land area that is saturated with water, either permanently or seasonally, and contains hydric soils and aquatic vegetation. Marshes, bogs, and swamps are typical wetlands. A wetland may be dry for extended periods, but in general its water table is at or near the land surface long enough each year to support aquatic plants.

Plant and animal communities that develop and adapt to these conditions differ from those in purely aquatic (lakes, rivers) or dry land environments. Depending on its type, a wetland may be filled mostly with trees, grasses, shrubs, or moss. Some wetlands contain no vegetation, but only organic soil/muck.

Wetlands occupy an important transition zone between land and water, and are considered among the most biologically diverse and productive ecosystems in the world. Michigan's Upper Peninsula, including Pictured Rocks National Lakeshore, contains a rich composition of marshes, bogs, cedar swamplands, vernal pools, wet meadows, and forested lowlands. These wetlands provide habitat for many kinds of plants and animals, including rare orchids and invertebrates, and are especially critical as amphibian breeding grounds. Wetlands also reduce flood peaks, serve as natural filters, control erosion, and recharge and discharge groundwater.

Few studies on wetland ecosystems have been done at Pictured Rocks. One was a study on vernal pools in 2013. Vernal pools are small, temporary wetlands that generally fill during spring or fall and dry up in summer. One essential characteristic is that they lack fish, which makes them safe breeding habitat for certain species of amphibians and wetland invertebrates such as fairy shrimp that would otherwise become fish prey.