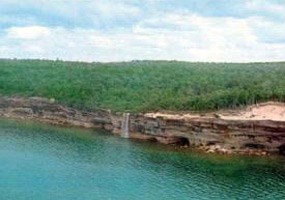 Pictured Rocks National Lakeshore is designated a Class II area under the Clean Air Act. An assessment based on lichen flora and elemental analysis suggested that air quality in the vicinity is quite good.

Although large-scale heavy industry is quite distant from the national lakeshore, some long range/global atmospheric transport of pollutants to this area has been documented. Acid deposition in the central Upper Peninsula is a well-established phenomenon. Long-range transport of toxics/pollutants has apparently influenced other remote park units in the region more than Pictured Rocks National Lakeshore.

No baseline information exists on any ambient air quality parameter within the park boundary. There is an ozone monitoring station at Marquette, Michigan, 75 km (45 miles) to the west.