Stories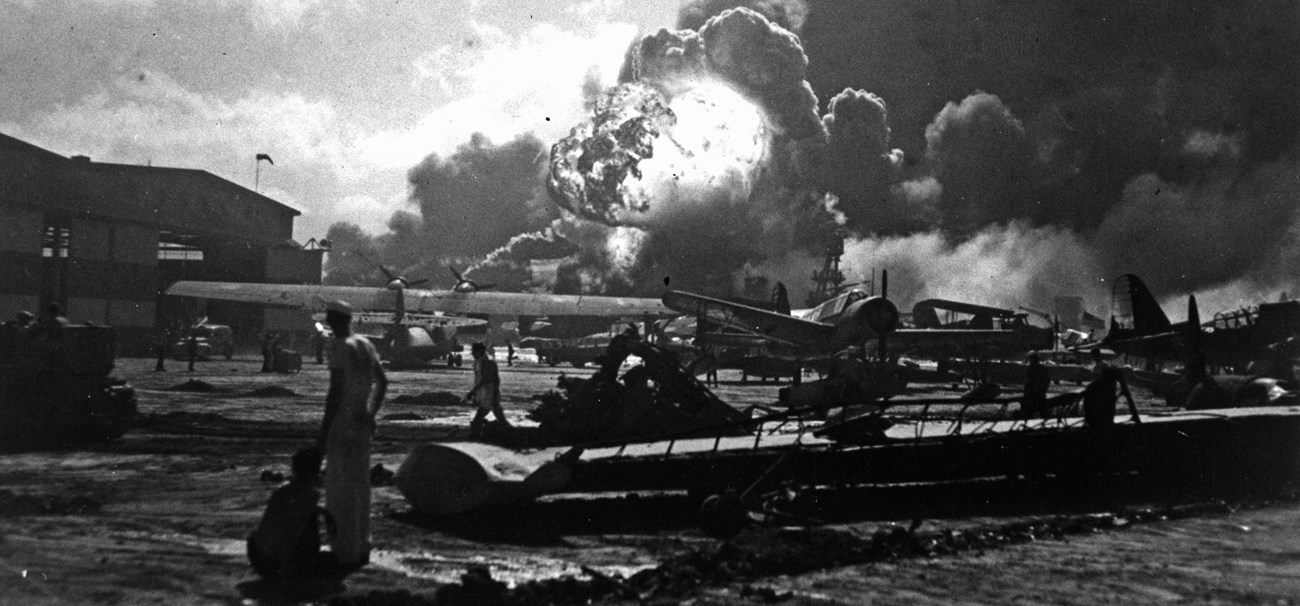 "Yesterday, December 7, 1941 — a date which will live in infamy — the United States of
America was suddenly and deliberately attacked by naval and air forces of the Empire of Japan."
President Franklin D. Roosevelt
Servicemember Stories
Joe George
- Joe saved the lives of six USS
Arizona
sailors trapped on the ship when he threw them a line from the USS
Vestal
, the repair ship moored next to the USS
Arizona
during the attack.
Everest Capra
- "It was of no surprise when the Japanese attacked Pearl Harbor on Dec 7, 1941. Most of us had been expecting this, but did not have the actual date."
Cecil W. Camp
- "On the morning of December 7, 1941, I had relieved the watch in the port engine room [of the USS Utah]. I had been on watch about 20 minutes when the first torpedo hit the ship on the port side."
Gino Gasparelli
- "On December 7, 1941, my duty station was at Wheeler Field on the Island of Oahu, one of the Hawaiian Islands. Wheeler Field was the largest fighter air base on the island. The base had been on an alert status all week long until Saturday morning, December 6, 1941."
Sterling Cale
- On the morning of Dec. 7, 1941, Sterling Cale had just finished up a long night of work. He was a pharmacist's mate in the Navy, a self-proclaimed "farm boy from Illinois." He worked at the dispensary, where Sailors got their medicine. Just after signing out, he noticed planes flying over Battleship Row.
Joe Morgan
- Joe was on Ford Island when the bombs started falling December 7, 1941. He ran into a hangar and found a huge I-beam to shelter himself from the fury of the bullets, bombs and explosions.
Leslie Vernon "Les" Short
- Just as the ship's bugler sounded first call for morning colors, Les noticed planes diving "from the sun towards Ford Island." He thought US Army aircraft were engaging the station in a mock attack.
Robert Kinzler
- Robert was not at Pearl Harbor when the bombs began to fall. He was stationed at Schofield Barracks. His vantage point was a few miles from the inferno in the harbor, but the experience was nonetheless gripping.
Americans of Japanese Ancestry in World War II
When Japanese warplanes attacked Oahu on December 7, 1941, about 2,000 Americans of Japanese ancestry (AJAs) were on Army active duty in Hawaii. Hundreds more were University of Hawaii ROTC cadets who answered the call to arms that day with the Hawaii Territorial Guard.
Find out more about them.
Civilian Stories
Pat Thompson - On Saturday night, December 6, 1941, 10-year-old Pat Thompson was in attendance at Bloch Arena. That night there was a jitterbug contest. The emcee took notice of Pat and asked the crowd if someone would like to be this young girl's partner. A 17-year-old sailor named Jack Evans volunteered.
Jimmy Lee -
James "Jimmy" Lee was 11 years old on December 7, 1941. He and his family lived on a farm on the shores of Pearl Harbor, less than a mile from Battleship Row and Ford Island. When he woke up that morning, it was just like any other Sunday. He and his brothers went outside to feed the pigs, and then the attack began.
Publications and other documents

US Navy Salvage War Diaries - Most of the Pacific Fleet salvage that was conducted upon ships impacted by the Japanese attack on Pearl Harbor occurred between March 1, 1942 and November 15, 1943. The Diaries use an abbreviated series of acronyms. Their deciphering is work in progress.

At 'Em Arizona Newsletters - View editions of the USS Arizona Newsletter, "At 'Em Arizona," ranging from 1921 to 1941.

Pearl Harbor Survivor Grams - These 189 historic newsletters document the history and activities of one of America's most unique veteran's organizations, The Pearl Harbor Survivors Association. It began in October 1964 and closed its membership in February 2012. As you read through these papers, you will gain new insights and perspectives into the men and women that experienced Pearl Harbor and the attack on Oahu on December 7th, 1941.
Pearl Harbor Messenger - The Pearl Harbor Messenger was published by the Naval Supply Depot of Pearl Harbor. These two copies were generously donated by servicemembers who served at Pearl Harbor during that special time in history.


Last updated: October 22, 2021