Pat Thompson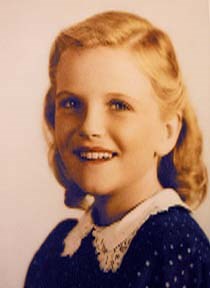 Ten-year-old Pat "Patsy" Campbell loved music. She loved listening to it, and she loved dancing to it. While growing up, she took ballet classes. She often taught herself routines by watching others. One of those dances was called the jitterbug.

In 1941, the jitterbug was all the rage. Young people loved dancing the jitterbug to live swing music. They went to dance halls and ball rooms and danced the night away.

Patsy was no exception. Her dad was in the Navy, and her family lived just outside of Pearl Harbor's main gate. She lived just down the road from Bloch Arena, which was the place to be on weekends. Friday nights were for boxing matches. Saturday nights were for The Battle of the Bands contests.

Saturday night, December 6, 1941, young Patsy was in attendance at Bloch Arena. She sat just in front of the band and tapped her feet to the music. That night there was a jitterbug contest. The emcee took notice of Pat and asked the crowd if someone would like to be this young girl's partner. A 17-year-old sailor named Jack Evans volunteered. They showed off their moves and ended up winning trophies as the jitterbug champs! That night, they left the contest without even knowing each other's names.

The next morning, December 7th, Oahu was under attack. Per her dad's suggestion, Pat went to her neighbor's house with her mom, brother, and dog Tinker. They watched in shock and disbelief from the house's second story as Pearl Harbor and Hickam Field were destroyed before their eyes.

After the war, life went on. Pat (now Thompson) grew up and married, and moved to the San Diego area to raise her family. Even though many years passed, she always wondered what happened to her jitterbug partner on that fateful day. She started submitting letters to veterans' newsletters to see if she could find out.

About a year later, the mystery was solved! Pat was shocked to hear a message on her answering machine saying, "If this is Pat Thompson, I'm the Sailor you're looking for."

It was Jack Evans! As it turns out, the two had lived only 15 miles from each other for 40 years. Jack had moved to the San Diego area too.

Since reuniting, the dance partners have recreated their jitterbug on a few special occasions. The most notable was then they both came back to Pearl Harbor for the 65th anniversary in 2006 to relive their memorable moment. While most stories of that fateful day focus on the devastation, the story of the jitterbug between ten-year-old Patsy, now 81, and 17-year-old Jack, now 88, is a bright spot in the darkness.

Pat's winning trophy is now on display at the Pearl Harbor Visitor Center.
Last updated: May 2, 2018