Jimmy Lee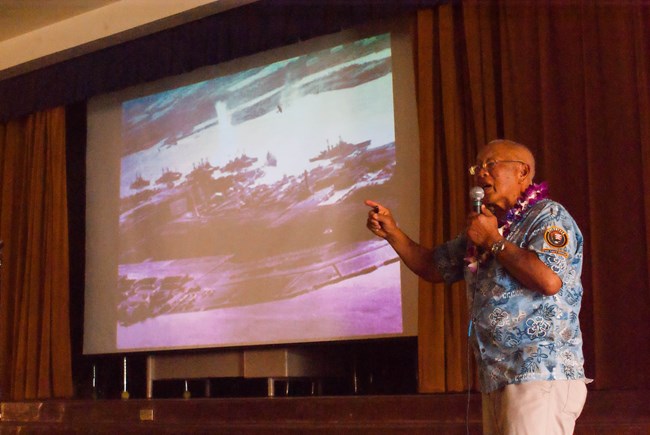 James "Jimmy" Lee was 11 years old on Dec 7, 1941. He and his family lived on a farm on the shores of Pearl Harbor, less than a mile from Battleship Row. When he woke up that morning, it was just like any other Sunday. He and his brothers went outside to feed the pigs, and then the attack began. They saw the planes flying overhead.

"'Oh, wow!' we said. We thought it was like a show," Jimmy remembers.

They sat on the railroad and watched the planes flying over Pearl Harbor. They had no idea that this "show" was America's entry into WWII.

"We were not scared," he says. "We didn't know. Once they told us, 'Don't you know this is war?' …then we were scared!"

He and his family eventually sought shelter toward the mountains near Waimalu Valley. They waited there for at least an hour, until the attack was over. They were unsure if there would be more to come, but headed home.

Jimmy's best friend Toshi Yamamoto's family was Japanese. Jimmy and Toshi were neighbors and classmates at Aiea Elementary from 2nd through 5th grade. They played together every day. When the Lees returned from seeking shelter, Jimmy went to check on Toshi. He was nowhere to be found. Everything in his house was gone. There was no note or hint as to where they went.

In the years following the attack, Hawaii was under martial law. Martial law means military government. There were curfews, so kids had to be in by certain times of the night. Sometimes Jimmy and his brothers would get stopped in the mornings because it was too early. Eventually the soldiers learned that they were just going to feed their animals!

When they were old enough, Jimmy's brothers joined the military to do their part, but Jimmy stayed behind. He was too young to go. Instead he lived at home, went to school, and worked on the farm under martial law.

Martial law also meant blackouts - no one could use lights at night. That meant no homework was assigned at school! (For the most part.) Food was rationed, and the news and mail were censored. This lasted for almost three years. Martial law ended in October 1944.

When the war ended in 1945, Jimmy was thrilled. His brothers would be coming home. He knew he wanted to serve in the military too, so he joined the Hawaii Air National Guard. He was later drafted into the Army, eventually transitioning to the reserves. His military career took him to Germany, Korea, Japan, Guam, and the U.S. mainland.

After retiring from military service, he served in the U.S. Army Corps of Engineers. He eventually retired after 42 ½ years of federal service. In 1988 he was even appointed "Honorary Ambassador-at-Large" for Guam!

In addition to enjoying his ever-growing family (now 41 in all!), Jimmy enjoys traveling, especially to China and Japan. He also volunteers for the National Park Service. Jimmy is a valued member of the education team. He is always willing to share his stories with students near and far.

Over 70 years later, Jimmy still wonders what happened to his friend Toshi. For 20 years, every December 7th, he wrote the editor at the daily paper to see if they could write something to help him find Toshi. Sometimes they would, sometimes they wouldn't. He finally gave up in the 1990s. He uses this story to remind students that great friends are precious. They should not be taken for granted!

The same could be said for the great volunteers who serve our country by donating their time. Jimmy is one of those great volunteers who can be found at the Pearl Harbor Visitor Center most Wednesdays.
Last updated: May 2, 2018