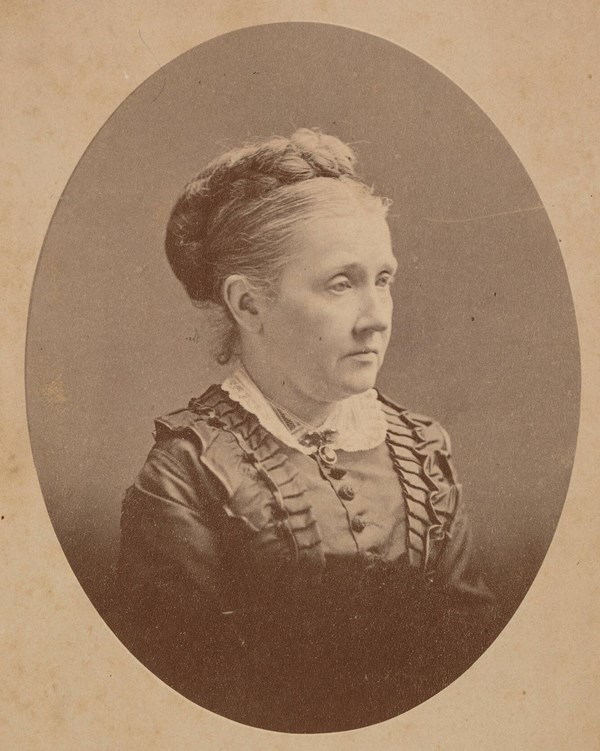 Significance:
Author, Reformer
Place of Birth:
New York, NY
Date of Birth:
May 27, 1819
Place of Death:
Portsmouth, RI
Date of Death:
October 17, 1910
Place of Burial:
Cambridge, MA
Cemetery Name:
Mount Auburn Cemetery
Best known today for writing "The Battle Hymn of the Republic" and the "Mother's Day Proclamation" (1870), Julia Ward Howe advocated for others while defying those who tried to control her.
Born to a wealthy New York City family, Julia Ward lived her first years in opulence. Everything changed in 1824, when Ward's mother died of complications from childbirth.1 Her father coped with the loss through strict religious fervor, banning many books and sinful indulgences, including the theatre.2 Similar to many wealthy girls of the time, Ward learned from private tutors at home through age sixteen, while her brothers attended school. An imperfect student, Ward blamed "a certain over-romantic and imaginative turn of mind" for her rebellious attitude toward tutors.3 Learning independently, she taught herself multiple languages and became a voracious reader.
Julia Ward first met Samuel Gridley Howe while visiting friends in Boston in 1841. Dr. Howe, the headmaster of the Perkins School for the Blind, had received a knighthood during the Greek Revolution.4 When Howe described the reformer riding up to her, "a noble rider on a noble steed," she said he seemed like a dashing knight from a fairy tale.5 The two married on April 23, 1843, at which point the fairy tale abruptly ended.6 Dr. Howe proved to be a controlling husband who expected his wife to set aside her creative outlets and become a perfect spouse and mother. Despite her misgivings, Howe had four daughters and two sons: all but one survived to adulthood.
Howe's husband disapproved of her literary ambitions and dictated her behavior, but he also remained physically and emotionally distant. He only shared emotional intimacy with a male companion, future senator Charles Sumner.7 Howe poured these frustrations into her writing, starting with a fiery, autobiographical volume of poetry called Passion-Flowers in 1854. One poem, "Mind Versus Mill-Stream," ended with a moral she omitted from later editions:
For men will woo the tempest,
And wed it, to their cost,
Then swear they took it for summer dew,
And ah! Their peace is lost!8
She also wrote, but never finished or published, an overtly queer novel that her marital problems may have informed.9
For much of their marriage, Julia Ward Howe found happiness despite her husband, not because of him. Living in Boston influenced Howe's societal and religious opinions. She abandoned the rigid orthodoxy of her youth and embraced Transcendentalism. Howe frequented the services of Theodore Parker, a radical Unitarian minister who became one of her closest friends.10 After meeting abolitionists such as William Lloyd Garrison, Maria Weston Chapman, and Wendell Phillips, Howe supported total, immediate abolition.11 Both Howe and her husband spent much time at the Longfellow House, and were good friends with Henry and Fanny Longfellow and their network of Cambridge and Boston abolitionists.
Although her husband disapproved of her working outside the home, he relied on her contributions as a writer and editor for the Boston Commonwealth, the daily newspaper of the Boston Emancipation League, which he published. However, similar to many White abolitionists, Howe's antislavery views did not prevent her from believing in the inferiority of Black people. Her 1860 travelogue A Trip to Cuba stirred controversy among her fellow abolitionists for its racist portrayal of the island's Black inhabitants.12
When the Civil War began, the Howes visited Washington, D.C. in November 1861 to assess the war effort and meet with President Abraham Lincoln. During that trip, Howe awoke from a dream with a poem in mind. "So, with a sudden effort, I sprang out of bed, and found in the dimness an old stump of a pen... I scrawled the verses almost without looking at the paper."13 She published that poem, "The Battle Hymn of the Republic," in the February 1862 edition of the Atlantic Monthly.14
The fame from "Battle Hymn" granted Howe more power in her marriage. She simply ignored Dr. Howe's protests when she accepted invitations to speaking events. In 1868, she began speaking for women's suffrage, a cause that shaped the rest of her long life.15 She eventually led local and national suffrage associations, working alongside such luminaries as Lucy Stone and Mary Livermore. The day after her husband's funeral in 1876, Howe wrote, with foresight, that she "Began [her] new life today."16
Over the course of her long widowhood, Howe embraced her independence and expressed herself freely and vividly. She forged a unique path for herself and became an eager student of the world. Howe spent the remaining 34 years of her life traveling all over the United States, giving speeches on numerous subjects. She advocated for the Armenian people in Faneuil Hall and argued for the rights of women as far away as New Orleans.17 She befriended Oscar Wilde when few Bostonians did and rode along on her grandson's motorcycle.18 Speaking to her wide variety of interests, Howe published poetry, travel writing, a biography, and works on peace and women's suffrage, including Words for the Hour (1857), From the Oak to the Olive (1868), Margaret Fuller (1883), Woman's Work in America (1891), and Woman and the Suffrage (c. 1909). For her work, Howe was the first woman elected to the American Academy of Arts and Letters, an honorary society begun in 1904 which chooses the most exceptional artists, writers, and composers in America and was then considered the highest recognition.
Julia Ward Howe died peacefully in her home at the age of 91, having lived on her own terms.
---
Portrait of Julia Ward Howe courtesy of Isabella Stewart Gardner Museum, Boston.
Footnotes
Elaine Showalter, The Civil Wars of Julia Ward Howe (New York: Simon and Schuster, 2016), 4-5.
Julia Ward Howe, Reminiscences, 1819-1899 (Boston: Houghton Mifflin, 1899), 15.
Howe, Reminiscences, 43.
As a young man in the 1820s, Samuel Gridley Howe took inspiration from his idol, Lord Byron, and traveled to Greece to assist with a rebellion against the ruling Ottoman Empire. Howe provided medical aid and organized supplies. The new king of Greece, Otto of Bavaria, later named Howe a Chevalier of the Order of St. Savior in appreciation. See Showalter 34-35.
Howe, Reminiscences, 82.
Gary Williams, Hungry Heart: The Literary Emergence of Julia Ward Howe, (Amherst: University of Massachusetts, 1999), 41.
Williams, Hungry Heart, 42-65.
Julia Ward Howe, Passion-Flowers (Boston: Ticknor, Reed, and Fields, 1854), 85.
Williams, Hungry Heart, 99.
Howe, Reminiscences, 161.
Howe, Reminiscences, 153-157.
Showalter, Civil Wars, 153.
Howe, Reminiscences, 275.
Showalter, Civil Wars, 166. "The Battle Hymn of the Republic" has a rich history of its own. For more information about the story behind the song, see The Battle Hymn of the Republic: A Biography of the Song that Marches On by John Stauffer and Benjamin Soskis (Oxford: Oxford University, 2013).
Howe, Reminiscences, 385.
Showalter, Civil Wars, 204.
Showalter, Civil Wars, 236, 215. Howe spoke in Faneuil Hall in 1904, before an audience of 4,000 Armenian-Americans. She delivered her speech amid rebellions against the reigning Ottoman Empire and advocated for U.S. military intervention on behalf of the Armenians. The Turks suppressed the rebellions and massacred thousands of Armenians in the process. A decade later, in 1915, the Ottoman government launched the Armenian genocide and murdered between 664,000 and 1.2 million Armenians—anywhere between 44% and 80% of the Ottoman Empire's Armenian population. See: United States Holocaust Memorial Museum (https://encyclopedia.ushmm.org/content/en/article/the-armenian-genocide-1915-16-overview).
Showalter, Civil Wars, 211, 235. Oscar Wilde visited the United States in 1882. Just 27 years old at the time, he had not yet written any of his most famous literary works and had, in fact, only published one critically-panned volume of poetry. He toured the country to lecture on aestheticism: a movement concerned with fashion, interior design, and the importance of beauty and pleasure. Wealthy and prominent Americans in many cities hosted Wilde, though many believed his fame to be unearned and criticized him for his flamboyant, effeminate appearance. Howe, however, befriended Wilde and defended him in the press. See: Wilde in America: Oscar Wilde and the Invention of Modern Celebrity by David M. Friedman (New York: Norton, 2014).
Last updated: January 17, 2023