Person
Henry Wadsworth Longfellow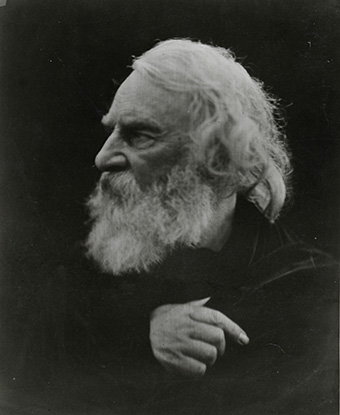 Place of Birth:
Portland, ME
Date of Birth:
February 27, 1807
Place of Death:
Cambridge, MA
Date of Death:
March 24, 1882
Place of Burial:
Cambridge, MA
Cemetery Name:
Mount Auburn Cemetery
The leading poet of the Victorian era, Henry Wadsworth Longfellow (1807-1882) contributed to the development of a distinctly American literature. Among his most significant works are "A Psalm of Life" (1839), "The Village Blacksmith" (1842), "Paul Revere's Ride" (1861), and the book-length poems Evangeline (1847) and Song of Hiawatha (1855).
Henry Longfellow married Mary Storer Potter in September 1831. She died just four years later, of complications following a miscarriage while traveling through Europe with her husband. Longfellow met his second wife,Frances Elizabeth Appleton, in 1835, though they did not marry until 1843. Together, Henry and Fanny Longfellow had six children: Charles (1844-1893), Ernest (1845-1921), Fanny (1847-1848), Alice (1850-1928), Edith (1853-1915), and Anne Allegra (1855-1934).
Though known for his writing, Longfellow had a distinguished academic career, as a professor of modern languages at Bowdoin College from 1829 to 1835 and as Smith Professor of Modern Languages at Harvard College from 1836 to 1854. In these positions he taught French, Spanish, Italian, and German language and literature, and pioneered the field of comparative literature.
Longfellow's writings and poetry, composed mostly in his home on Brattle Street in Cambridge, made him one of the earliest American cultural celebrities. His fame and intellectual cachet positioned Henry and wife Fanny to interact with and host many significant domestic and international political, cultural, and literary figures of the time. Their social circle in Cambridge and Boston included Senator Charles Sumner, Julia and Samuel Howe, James and Annie Fields, Richard Henry Dana, Jr., Oliver Wendell Holmes.
Last updated: July 1, 2020