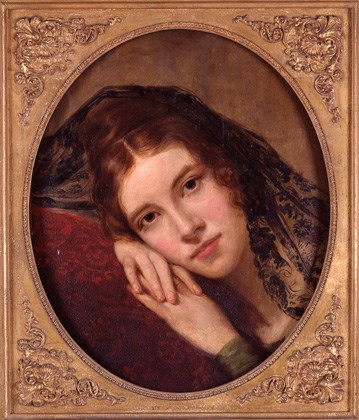 Early Life
Frances "Fanny" Elizabeth Appleton was born in Boston, Massachusetts, on 6 October 1817, the fourth child of Nathan Appleton (1779-1861) and Maria Theresa Gold Appleton (1786-1833). Her father was a prosperous merchant, manufacturer, and congressman who was among the founders of the city of Lowell, Massachusetts, and was a leader in the Industrial Revolution. Appleton had a privileged childhood, growing up in her parents' elegant townhouse at 39 Beacon Street in the midst of fashionable Boston society. She had a close relationship with her older siblings – Tom (b. 1812), Mary (b. 1813), and Charles (b. 1815) – reflected in their lifelong correspondence when apart.
As a child, Appleton was educated at several schools, most notably those of Elizabeth Palmer Peabody and George Barrell Emerson in Boston. In addition to grammar, geography, and arithmetic, she studied history, French, and Latin. She studied drawing with Francis Graeter and N. Vautin and took dancing lessons at Papanti's Hall. As a young woman, her wide reading included Shakespeare, Shelley, Coleridge, Fenelon, Goethe, and Mary Wollestonecraft.
Appleton experienced a series of losses as a young woman, beginning with the death of her seven-month-old brother George William Appleton in 1827. Consumption, or tuberculosis, took a heavy toll on her family: Fanny's mother Maria Theresa Appleton died in 1833, followed by her older brother Charles Sedgewick Appleton in 1835, and her cousin William Sullivan Appleton in 1836.