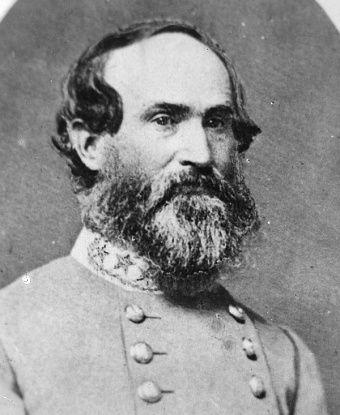 Quick Facts
Significance:

Confederate major general

Place Of Birth:

Franklin County, VA

Date Of Birth:

November 3, 1816

Place Of Death:

Lynchburg, VA

Date Of Death:

March 2, 1894

Place Of Burial:

Lynchburg, VA

Cemetery Name:

Spring Hill Cemetery
Jubal Anderson Early was a native Virginian and member of the Whig party who did not particularly support secession. However, when President Lincoln called for 75,000 volunteers to support the Union in 1861, he was moved to defend the South.

Having graduated from the United States Military Academy in 1837 and with previous military experience fighting the Seminole Wars in Florida, Early rose quickly through the ranks of the Confederate army, starting out as colonel of the 24th Virginia Infantry before being promoted to brigadier general, major general, and eventually lieutenant general.

Serving in Virginia for most of the war, he was involved in all the Army of Northern Virginia's major engagements from 1862 to 1864 including the Seven Days' Battles, Second Manassas, Antietam, Fredericksburg, and Gettysburg, holding the position of division commander during several battles. In the 1864 Overland Campaign, fought at the Wilderness, assumed temporary command of the II Corps at Spotsylvania, and was named commander of the III Corps at the Battle of Cold Harbor.

As the armies settled into siege lines at Petersburg, Robert E. Lee sent Early and his corps marching north, hoping Ulysses S. Grant would dispatch troops to deal with the threat, thereby easing the pressure against his Petersburg lines. In the ensuing Shenandoah Valley Campaign, Early mounted the Confederacy's last invasion of the North, driving Union forces westward and ultimately threatening Washington, D.C. before being turned back at the Battle of Fort Stevens. In the war's final months, however, Early - known to his troops as "Old Jube" - suffered a string of defeats, including the Battle of Winchester, the Battle of Fisher's Hill, and the Battle of Cedar Creek. He was eventually relieved of command by Lee, in the wake of a disastrous defeat at Waynesboro in March 1865.

Prior to the war, Early had been both a lawyer and a member of the Virginia House of Delegates, but after surrendering he went on the lam, escaping to Mexico, Cuba, and Canada before being pardoned by President Andrew Johnson in 1868. He spent the last years of his life in Lynchburg, Virginia, again practicing law and promoting the Lost Cause before his death in 1894.
Last updated: April 22, 2020