John Singleton Mosby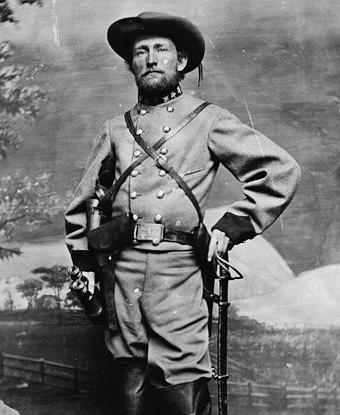 Quick Facts
Significance:

Confederate cavalry commander

Place Of Birth:

Powhatan County, VA

Date Of Birth:

December 6, 1833

Place Of Death:

Washington, DC

Date Of Death:

May 30, 1916

Place Of Burial:

Warrenton, VA

Cemetery Name:

Warrenton Cemetery
John Singleton Mosby was a lawyer turned partisan raider during the American Civil War. Enlisting as a private in the Washington Mounted Rifles, Mosby quickly rose through the ranks and was a lieutenant by the time he was attached to J.E.B. Stuart's cavalry regiment. Stuart was immediately taken with Mosby and assigned him increasingly responsible positions until finally Mosby was granted the autonomous command of a battalion-sized cavalry force charged with harassing Federal troops in Northern Virginia.

Mosby's Rangers, as it came to be called, was famous for its daring and ability to evade pursuers by blending into the surrounding civilian population, then reforming once the danger had passed. Frustration with Mosby's attacks boiled over in 1864 when Union troops summarily executed seven of Mosby's men. Mosby then retaliated by executing three Union prisoners. The killings stopped after an exchange of notes between Mosby and the local Union commander, Philip Sheridan.

Historians differ as to the military value of the Rangers' exploits but agree that they had a beneficial effect on Southern morale. Mosby disbanded his command on April 21, 1865 and attempted to reach Gen. Joseph E. Johnston's army in North Carolina to continue the fight but abandoned his plan upon hearing of Johnston's surrender. After the war, he became a friend and strong political supporter of Ulysses S. Grant who, as president, appointed him to a number of Federal positions including Assistant Attorney General and U.S. Consul to Hong Kong. This friendship cost Mosby his childhood home, which was attacked by arsonists, and exposed him to death threats and even an assassination attempt. He died in his bed in 1916.
Last updated: June 17, 2015