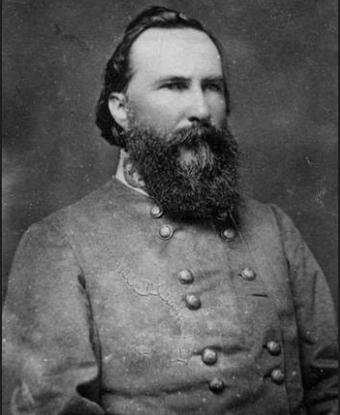 Quick Facts
Significance:

Lieutenant General Commanding I Corps Confederate Army of Northern Virginia

Place of Birth:

Edgefield District, SC

Date of Birth:

January 08, 1821

Place of Death:

Gainesville, GA

Date of Death:

January 02, 1904

Place of Burial:

Gainesville, GA

Cemetery Name:

Alta Vista Cemetery

Longstreet Goes West
After the Gettysburg Campaign in the summer of 1863, Confederate leaders began to realize the strategic importance of the city of Chattanooga in eastern Tennessee. General James Longstreet, along with around 10,000 men from his corps in the Army of Northern Virginia, were dispatched towards Chattanooga. Moving across hundreds of miles through the Confederate heartland, Longstreet's men arrived in Ringgold, Georgia just as the Battle of Chickamauga commenced. 
His troops boosted Confederate numbers to give the rebels a rare numerical advantage. Rumors quickly swirled through Union ranks about Longstreet's presence, and both Union soldiers, and Confederates from the Army of Tennessee, marveled at the soldierly appearance of Longstreet's men. By nightfall on September 19, 1863, Longstreet was on the field, and Confederate General Braxton Bragg reorganized the army, giving Longstreet command of an entire wing of his army. In confusion of the wooded battlefield, the dawn attack never materialized on the morning of September 20. Finally, at around 11 am, Longstreet ordered his wing forward towards the center of the Union line. Longstreet's command split the Union Army, and effectively routed the Army of the Cumberland.
Moving towards Chattanooga, Longstreet's men took up positions around Lookout Mountain. From this vantage point, James Longstreet helped plan the Battle of Wauhatchie, which resulted in Confederate defeat in Lookout Valley and opened a vital Union Army supply route known as the Cracker Line. Frustrated by the leadership of Braxton Bragg, Longstreet was ordered to Knoxville, where he engaged with Union forces, before returning to Virginia in the spring of 1864. 
Last updated: February 14, 2018