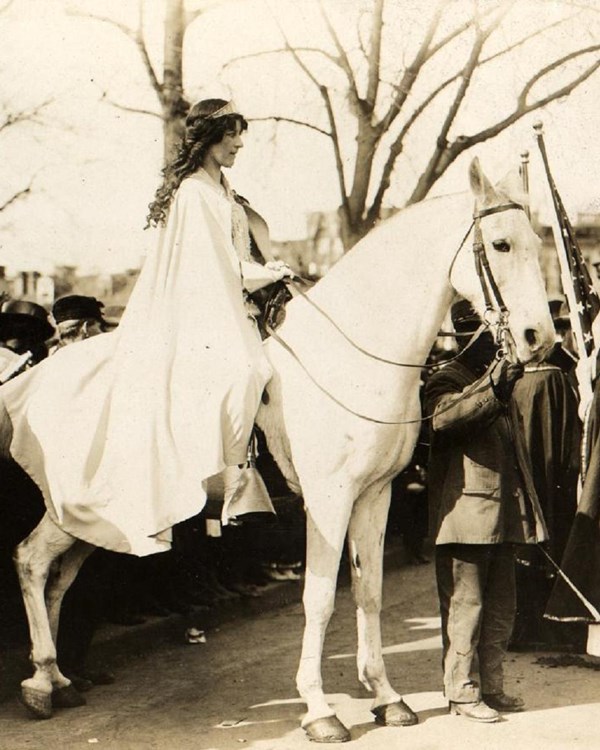 Significance:
Suffragist, labor activist, and lawyer who led the 1913 Woman Suffrage Procession in Washington, D.C.
Place of Birth:
Brooklyn, NY
Date of Birth:
August 6, 1886
Place of Death:
Los Angeles, CA
Date of Death:
November 25, 1916
Place of Burial:
Lewis, NY
Cemetery Name:
First Congregational Church and Cemetery, also known as Lewis Cemetery
Inez Milholland Boissevain was an American suffragist and labor lawyer. She is best known for leading the 1913 women's suffrage parade in Washington, D.C., dressed in a flowing white cloak and crown and riding a white horse. Though she took advantage of her reputation as "the most beautiful suffragette," her commitment to social change was far from symbolic. She was a talented speaker and a passionate advocate for women's rights, socialism, and pacifism.
Inez Milholland was born to a wealthy family in Brooklyn, New York. She grew up in New York City and London. While in England, she met the militant suffragist Emmeline Pankhurst and became a political radical. As a student at Vassar College, Milholland challenged a rule that banned discussion of suffrage on campus by holding meetings in a nearby cemetery.[1] This defiant spirit would animate her life's work.
After graduating from Vassar in 1909, Milholland started working as a suffrage orator in New York City. She also advocated for women's labor rights. She was arrested picketing alongside female shirtwaist and laundry workers during strikes led by the International Ladies' Garment Workers' Union in 1909 and 1910. She also used her resources as a member of an upper-class family to pay bail for other strikers and organize fundraisers. After being rejected from several law schools because she was a woman, Milholland earned a law degree from New York University in 1912.
On March 3, 1913, Milholland achieved wide fame when she served as the herald of the Woman Suffrage Procession in Washington, D.C. Astride a horse named "Grey Dawn" and dramatically dressed in white to represent the "New Woman" of the twentieth century, she led thousands of women down Pennsylvania Avenue in the first organized march on Washington.[2] Her work for women's rights continued after the parade. She gave numerous suffrage speeches in the United States and England. She also campaigned for pacifism as World War I brewed in Europe.
During an Atlantic Ocean crossing to England in 1913, Milholland met a Dutch coffee importer named Eugen Jan Boissevain. She proposed to him while they were still aboard the ship. They were married shortly after they landed. Boissevain supported and encouraged his wife's work.
Over the next few years Milholland began to experience poor health from pernicious anemia.[3] She refused to stop her activism. In 1916, she started a suffrage tour of the Western United States. On October 22, she collapsed while giving a speech in Los Angeles. Audience members reported that the last words she said before collapsing were addressed to Woodrow Wilson: "Mr. President, how long must women wait for liberty?" Inez Milholland died a few weeks later at the age of thirty.
After Milholland's death, her husband Eugen Jan Boissevain remarried another famous woman: the poet Edna St. Vincent Millay.[4] In 1923, Millay attended a memorial for Milholland at the Portrait Monument to Suffrage Pioneers at the U.S. Capitol. This statue of Elizabeth Cady Stanton, Lucretia Mott, and Susan B. Anthony celebrated the ratification of the 19th Amendment in 1920. Millay read a sonnet she had written for the occasion. It urged listeners to carry on the spirit of Milholland's work for justice and equality.
"To Inez Milholland"
Upon this marble bust that is not I
Lay the round, formal wreath that is not fame;
But in the forum of my silenced cry
Root ye the living tree whose sap is flame.
I, that was proud and valiant, am no more; —
Save as a wind that rattles the stout door,
Troubling the ashes in the sheltered grate.
The stone will perish; I shall be twice dust.
Only my standard on a taken hill
Can cheat the mildew and the red-brown rust
And make immortal my adventurous will.
Even now the silk is tugging at the staff:
Take up the song; forget the epitaph.
-Edna St. Vincent Millay
In 1924, the National Woman's Party (NWP) held a memorial service in New York to honor Milholland. The NWP did not invite any African American suffragists to participate. Milholland's father attended the ceremony and invited several guests to speak, including several professors from Howard University, a historically black college. When Milholland's father found out that the NWP was excluding African Americans from participating, he gave a passionate speech. He spoke to the crowd at the ceremony saying: "I feel duty to speak out. If I did not think her [Milholland's] spirit would rise up from the grave and say to me, 'Dad, why were you afraid.' And so I want to remind you that in the first suffrage parade, Inez herself demanded that the colored women be allowed to march, and now today we were told that it would mar the program to have these guests of mine speak. I have nothing to say except that Inez believed in equal rights for everybody."
Milholldand's involvement in the women's suffrage movement inspired the creation of comic book character Wonder Woman. The character's creator, William Moulton Marston, was a supporter of women's rights and suffrage. Marston used images of Inez Milholland leading the 1913 suffrage parade in Washington, DC as inspiration for the Wonder Woman comic, "The Milk Racket of Paula Von Gunther." In the story, Wonder Woman rides on horseback leading a demonstration, much like Milholland did in 1913. Milholland's legacy fighting for justice and equality lives on in this popular icon.
Notes
[1] Vassar College is located in Poughkeepsie, New York. Two buildings that were part of the campus while Inez Milholland was a student have been designated National Historic Landmarks. They are the Vassar College Observatory (designated on July 17, 1991) and the Main Building (added to the National Register of Historic Places on September 19, 1973 and designated a National Historic Landmark on June 24, 1986).
[2] The 1913 suffrage parade in Washington, D.C. filled streets that are now part of Pennsylvania Avenue National Historic Site.
[3] Pernicious anemia is a disease where the body does not make enough red blood cells. Red blood cells carry oxygen throughout your body. Without enough red blood cells, the body suffers from a lack of oxygen.
[4] Steepletop, the country home of Edna St. Vincent Millay and Eugene Jan Boissevian, is located in Austerlitz, New York. Now home to the Edna St. Vincent Millay Society, Steepletop was designated a National Historic Landmark on November 11, 1971.
 
Bibliography
"Icon: Inez Milholland (Boissevain)." In Women of Protest: Photographs from the
"Race Issue Hits Feminist Party," Records of the National Woman's Party, Library of Congress.http://www.nzdl.org/cgi-bin/library?e=extlink-00000-00---off-0whist--00-0----0-10-0---0---0direct-10---4-------0-1l--11-en-50---20-nav---00-0-1-00-0--4----0-0-11-10-0utfZz-8-00&a=d&d=HASH011b90cbb59e6cc8dcd5c815
Records of the National Woman's Party, Library of Congress. https://www.loc.gov/collections/women-of-protest/articles-and-essays/selected-leaders-of-the-national-womans-party/icon/.
"Inez Milholland." Vassar Encyclopedia. Last updated 2006. http://vcencyclopedia.vassar.edu/alumni/inez-milholland.html.
Lepore, Jill. The Secret History of Wonder Woman. New York: Vintage Books, 2015.
Lumsden, Linda. Inez: The Life and Times of Inez Milholland. Bloomington: Indiana University Press, 2004.
Baum, Jenny."Reader's Den: The Secret History of Wonder Woman, Part 1." 
(2015), https://www.nypl.org/blog/2015/03/02/readers-den-secret-history-wonder-woman-1
Millay, Edna St. Vincent. "To Inez Milholland," 1923.
Last updated: January 5, 2022