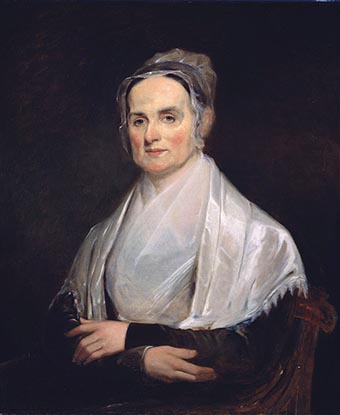 Significance:
women's rights activist, suffragist, abolitionist, helped plan the 1848 Women's Rights Convention at Seneca Falls
Place of Birth:
Nantucket, Massachusetts
Date of Birth:
January 3, 1793
Place of Death:
Cheltenham, Pennsylvania
Date of Death:
November 11, 1880
Place of Burial:
Philadelphia, Pennsylvania
Cemetery Name:
Fair Hill Burial Ground
One of eight children born to Quaker parents on the island of Nantucket, Massachusetts, Lucretia Coffin Mott dedicated her life to the goal of human equality. As a child, Mott attended Nine Partners, a Quaker boarding school located in New York.[1] At school, she learned of the horrors of slavery from her readings and from visiting lecturers such as Elias Hicks, a well-known Quaker abolitionist. She also saw that women and men were not treated equally, even among the Quakers, when she discovered that women teaching at Nine Partners earned less than the men. At a young age Lucretia Coffin Mott became determined to put an end to such social injustices.
In 1833 Mott, along with Mary Ann M'Clintock and nearly 30 other abolitionist women, organized the Philadelphia Female Anti-Slavery Society. She later served as a delegate from that organization to the 1840 World Anti-Slavery Convention in London. It was there that she first met Elizabeth Cady Stanton, who was attending the convention with her husband Henry, a delegate from New York. Mott and Stanton were indignant at the fact that women were excluded from participating in the convention simply because of their gender, and that indignation would result in a discussion about holding a woman's rights convention. Stanton later recalled this conversation in the History of Woman Suffrage:
As Lucretia Mott and Elizabeth Cady Stanton wended their way arm in arm down Great Queen Street that night, reviewing the exciting scenes of the day. Together, they agreed to hold a woman's rights convention on their return to America. 
Eight years later, on July 19 and 20, 1848, Mott, Stanton, Mary Ann M'Clintock, Martha Coffin Wright, and Jane Hunt acted on this idea when they organized the First Woman's Rights Convention. It was held in the Wesleyan Chapel, now part of Women's Rights National Historical Park.
Throughout her life Mott remained active in both the abolition and women's rights movements. She continued to speak out against slavery, and in 1866 she became the first president of the American Equal Rights Association, an organization formed to achieve equality for African Americans and women.[2]
Lucretia Mott died of pneumonia at her home in Cheltenham, Pennsylvania on November 11, 1880. She is buried in the Fair Hill Burial Ground, a Quaker cemetery in Philadelphia.[3]
Notes:
[1] The Nine Partners Boarding School was affiliated with the nearby Nine Partners Meeting House and Cemetery. Their meeting house was listed on the National Register of Historic Places on April 27, 1989.
[2] You can read more about the connection between African American voting rights and women's voting rights in "Suffrage In America."
[3] The Fair Hill Burial Ground was listed on the National Register of Historic Places on August 7, 1998.
Last updated: January 5, 2023