Horseback Riding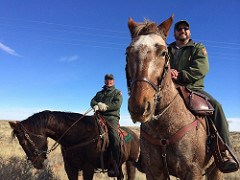 Ride for a few hours or a few days! Be prepared, check the weather conditions, and know the limits of yourself and your horse.
Wilderness Area Access
Two miles north of the Painted Desert Visitor Center, is the Painted Desert Wilderness access trail near Kachina Point, on the northwest side of Painted Desert Inn. Here you will find trailer parking and loading/unloading room. Please park your trailer so that it does not interfere with vehicle traffic flow.
Trail Conditions
The first section of switchbacks descend 400 feet (122 m) on an unstable surface, with steep drop-offs. Depending on your capability, you may want to lead your horse down. Once in the Painted Desert there is very little grade change and riding is easy.
There are no maintained trails in the Wilderness Area. To reduce the impact on fragile microbiotic crusts and other delicate resources, travel in dry washes as much as possible.
Summer monsoon rains frequently flood washes making access to some parts of the Wilderness difficult. When wet, the clay soils are slick and tend to accumulate on your feet. Quicksand may be present in washes.
Water
No water is available in the wilderness area. Pack in all water needed for your trip.
Camping
For those who wish to stay overnight in the Wilderness Area, a free permit must be obtained from either the Painted Desert Visitor Center or Rainbow Forest Museum. You must be in a designated zone north of Lithodendron Wash before setting up camp. No campsites are maintained in the Wilderness Area. Group camping is limited to 8 people and 4 horses. Go to the Backpacking page for more information.
Rules, Regulation, and Safety
Do not leave horses unattended.
Horses are prohibited on paved trails and paved roads, with the exception of park service horses on patrol.
Feed must be certified weed-free.
Clean up after horses when in developed areas.
Pack it in, pack it out. Leave no trash behind.
Collection of plants, rocks, petrified wood, fossils, archeological objects, or other materials is illegal anywhere in the park.
No bicycles or motorized vehicles are allowed in the wilderness area.
Be aware that elevations average 5,800 feet. Temperatures vary greatly from extreme heat to bitter cold.
Take all water necessary. One gallon per person per day is recommended during the summer months. For overnight trips, take enough water for your horses, too.
Last updated: April 15, 2021