Backpacking
There is no overnight camping in the park right now. The park will be offering wilderness camping permits again starting April 14.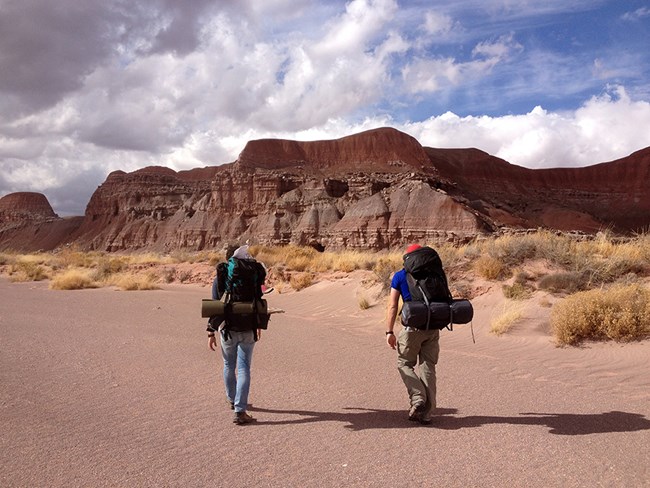 To stay overnight in the Petrified Forest National Wilderness Area, obtain a free backcountry permit. Permits must be acquired in person at either the Painted Desert Visitor Center or Rainbow Forest Museum on the day of camping. Details about parking and reaching your destination will be shared during your permit process.
Groups
Group camping is limited to 8. Because of the fragile soils and landscape features, minimum impact camping is very important. This includes limiting the number of people within an area.
See LNT.org to learn about the principles of Leave No Trace camping.

Rules, Regulations, and Safety Points:
Collection of plants, rocks, petrified wood, fossils, archeological objects or other materials is illegal anywhere in the park.
No bicycles or motorized vehicles are allowed in the Wilderness.
No wood or charcoal fires are allowed. Please use fuel stoves.
Bury human waste.
Pack it in, pack it out. Leave no trash behind.
Be aware that elevations average 5,800 feet.
Temperatures vary greatly from extreme heat to bitter cold.
Take all water necessary. One gallon per person per day is recommended during summer months.


Last updated: April 1, 2021