Getting Around
If you plan to visit January through May, 2020, please check out road closure information
here.
Driving
The main park road stretches 28 miles (45 km), with spurs and viewpoints along the way. Please follow all traffic laws and drive safely.
• Stay on paved roads.
• Observe speed limits, which range between 15 and 45 miles per hour.
• Park or stop in designated areas. Do not stop in the middle of the road.
• Thank you for not idling your engine for extended periods of time (five minutes during periods of inclement weather, two minutes all other times).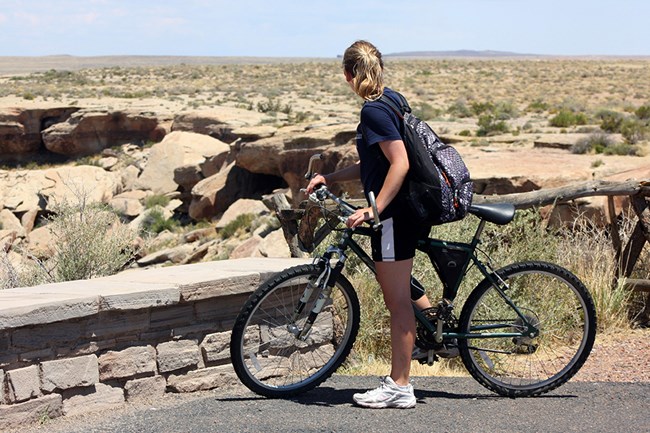 Cycling
Bicycle use is permitted on paved park roads and parking areas open to the public.
Be careful along park roads—everyone is looking at the view!
Bicycle use is not allowed off-road or on park trails, with the following exceptions:
• The unpaved portion of Old Route 66
• The eastern portion of Old Highway 180 in the Rainbow Forest area from its intersection with the main park road to the east boundary
• The trail beginning at Rainbow Forest Picnic Area and continuing to the base of the mesa, ending at a loop in the road, about a mile.
• The portion of the Long Logs trail from its intersection with the main park road, continuing to the trailhead loop area approximately 1.2 mile up the trail
Last updated: January 4, 2020