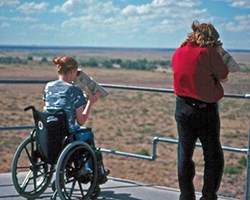 Petrified Forest has much to offer all visitors—limitless views, a fascinating geologic story, some of the cleanest air in the United States, and an enthralling human history. The park also features rugged terrain and historic buildings that may offer challenges to visitors with disabilities. Many of the facilities in Petrified Forest were built before current accessibility standards were set. Visitors with mobility or sight challenges may need assistance. Several of the daily Ranger Programs are at least partially accessible to wheelchair users. Inquire at visitor centers for specifics. Protective walls and railings are intermittent.
The National Park Service and park concessioners are working to improve access for all visitors. We want everyone to enjoy their visit and come back to see us!
One project is a new ramp put in at Rainbow Forest Museum, a building originally built in 1931. Native sandstone was used for the project.