Date:
June 11, 2008
Contact:
Janet Fernandes
, (928) 524-6228 ext.238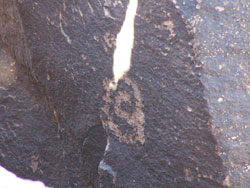 Summer Solstice Programs - June 2008
Petrified Forest, AZ – Summer Solstice Programs will begin at Petrified Forest National Park in June. Rangers will be on site at Puerco Pueblo's Solar Calendar from 8:00 a.m. to 9:30 a.m. daily from June 15 through June 28.
Solar calendars are usually single petroglyphs which interact with sunlight with the help of the surrounding rocks to mark the passage of the seasons. As the sun's position in the sky changes throughout the year, shadow and sunlit images are projected onto the rock carvings. Solar calendars have been discovered throughout the Southwest marking the summer and winter solstice, both equinoxes, and dates 45 days before and after winter solstice.
Puerco Pueblo is located on the main park road almost midway between the north and south entrance. A short paved trail leads through Puerco Pueblo to a boulder etched with a small circular petroglyph that marks the summer solstice. During the sun's morning trek, a shaft of light is projected onto the boulder and travels down the side to penetrate the center of the small spiral just after 9:00 a.m. Join us in observing this amazing occurrence as you learn about the archeo-astronomy of the region.
For more information call (928) 524-6228 weekdays, 8:00 a.m. to 4:00 p.m. Mountain Standard Time; or write to the Superintendent, Petrified Forest National Park, P.O. Box 2217, Petrified Forest, AZ 86028; or e-mail the park.