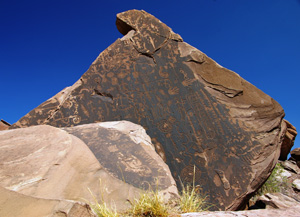 News Release Date:
July 10, 2009
Contact: Hallie Larsen, 928-524-6228 x274
Contact: Trey Colburn, 928-524-6228 x276
There will be two programs so special at Petrified Forest National Park that you need reservations: Stories in the Stars Evening Program and Wilderness Petroglyphs Hike.
Stories in the Stars Evening Program is a star party that allows visitors to stay with a ranger in the park after closing to witness the incredibly dark skies of Petrified Forest. Park Ranger Hallie Larsen will offer stories about the stars as well as an evening of stargazing at Kachina Point (2 miles into the park from the north entrance) at 7:30 pm on Friday, July 17th. If you are already in the park prior to closing at 7 pm, just meet the Ranger at Kachina Point. If you intend to arrive after 7 pm, please make reservations at 928-524-6228 ext. 236 as you will need to be let into the park. All participants must be at Kachina Point no later than 8 pm! You may bring a telescope, binoculars, and other astronomical equipment (you are responsible for your personal property). The presentation will be approximately an hour long with stargazing open for another two hours. The program may be cancelled due to weather (cloudiness, rain, etc.). Don't miss this rare opportunity to experience Petrified Forest National Park after dark!
Wilderness Petroglyphs Hike: meet Ranger Trey Colburn at the Painted Desert Inn National Historic Landmark (2 miles into the park from the north entrance) at 9 am on Thursday, July 23th. The hike will take approximately 3 hours and participants will discover rarely seen petroglyphs in the dramatic Petrified Forest National Wilderness Area—part of the Painted Desert. Come with closed-toed shoes, 2 liters of water, and sun protection as the ranger will have the discretion to make sure all participants are safe by turning away those not prepared. Please call for reservations at 928-524-6228 ext. 236.
More special programs will be added soon.
For more information call (928) 524-6228; or write to the Superintendent, Petrified Forest National Park, P.O. Box 2217, Petrified Forest, AZ 86028; or e-mail the park Superintendent.