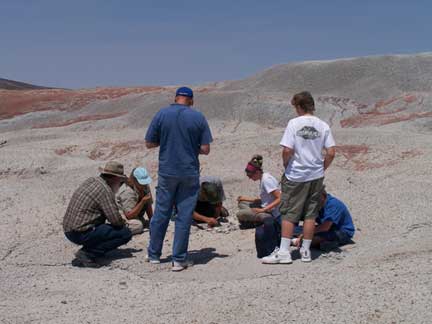 News Release Date:
June 28, 2006
Contact: Marge Post, 928-524-6228 x264
Science Camp Sponsored by Petrified Forest National Park and Holbrook School District
Petrified Forest, AZ – Excavating fossils and discovering petroglyphs were highlights of the Science Camp sponsored by Petrified Forest National Park and the Holbrook School District June 22 and 23, 2006. "We wanted to give students the opportunity to find out that science is fun. What better way to do that than to get them out in the field, seeing and doing science," said Superintendent Lee Baiza.
On Thursday, Holbrook Junior High students Chris Irwin and Aaron O'Dell along with Junior High Science teacher Mark LeFevre and High School Science teacher Darrin Thomas, learned about fossils from park Paleontologist Bill Parker during a behind-the-scenes tour of the park's fossil preparatory lab. "Bill was able to show the students fossils that represent new species of animals from the Late Triassic – animals not known to exist before!" said Superintendent Baiza. The group then took to the badlands, finding, identifying, and actually excavating the fossil remains of a possible phytosaur lower jaw.
On Friday, Museum Curator Scott Williams introduced the group to natural and cultural artifacts in the park's on-site museum. "The students saw everything from type specimen fossil material and ancestral Puebloan pottery to historic artifacts collected along Historic Route 66," stated Superintendent Baiza. The group then went out in the field to look for petroglyphs and do a site survey, trying to determine the historic use of an area based on the evidence on-site.
"The Science Camp was a great experience that I hope we will offer yearly," said Superintendent Baiza.
For more information call (928) 524-6228 weekdays, 8:00 a.m. to 4:00 p.m. Mountain Standard Time; or write to the Superintendent, Petrified Forest National Park, P.O. Box 2217, Petrified Forest, AZ 86028; or e-mail the park Superintendent at e-mail us.