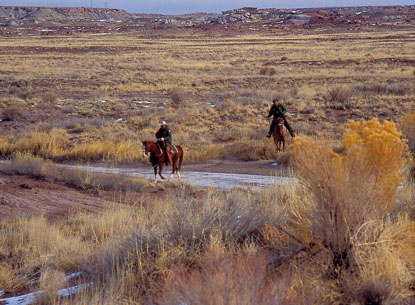 News Release Date:
February 1, 2012
Contact: Bill Parker, 928-524-6228 x245
Petrified Forest, AZ-Carrying on a tradition at Petrified Forest National Park, riders will take letters by horseback from the Rainbow Forest Museum on Tuesday, February 7th, 2012, to the post office at Holbrook, Arizona. These riders are part of a bigger institution, the Hashknife Pony Express, celebrating its 52nd year.

Every January, pony express riders travel two hundred miles from Holbrook to Scottsdale, Arizona, delivering thousands of pieces of mail. The ride ends with the Parada del Sol celebration in Scottsdale. Riders from Petrified Forest will include National Park Service employees on park horses. After the spur ride from the park, the mail will be handed off to the Hashknife riders at the courthouse, just before they are sworn in at noon. The official riders (Navajo County Sheriff's Posse) will ride from Holbrook to Scottsdale on Wednesday February 8th, 2012.

Commemorative mailers can be purchased for $1.00 at Rainbow Forest Museum, the Painted Desert Inn National Historic Landmark, and the Painted Desert Visitor Center as well as the Holbrook Post Office. The mailers, letters, or postcards (with appropriate postage) will be placed into the saddle bags at the visitor center, inn, and museum.

Mail must be in the saddlebags by the end of February 4, 2012, to be carried by horseback from Petrified Forest National Park. Each piece of mail will be stamped with two special cachets, one for the park and one for the pony express. Share a piece of history and send a letter by the Hashknife Pony Express!

For information call (928) 524-6228, 8:00 a.m. to 4:00 p.m. Mountain Standard Time; or write to the Superintendent, Petrified Forest National Park, P.O. Box 2217, Petrified Forest, AZ 86028; or e-mail the park Superintendent. You can also follow the park on Facebook as PetrifiedForestNPS and Twitter as PetrifiedNPS.