News Release
Petrified Forest National Park Historic Photography Book Now Available!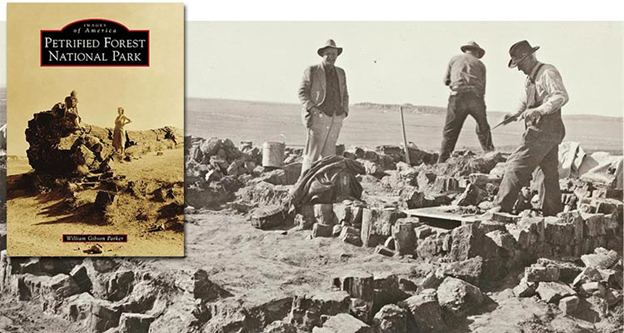 News Release Date:
September 28, 2020
Contact: Sarah Herve, 928-524-6228 x245
Discover the history and evolution of Petrified Forest through the eye of the camera. The book is beautiful and full of intriguing stories, provoking the reader to find their own connection with Petrified Forest National Park. The pages are filled with historic images from the park's archives as well as the author's personal collection. 
Petrified Forest's beautiful landscape has attracted people for thousands of years, but it has only been the last 140 years that visitors have made a photographic record of their visits.
In the words of Arcadia Publishing, the book's publisher "The park has been a crossroads for travelers and a destination for scientists, including Albert Einstein and John Muir. As a work site of the Civilian Conservation Corps, the only national park crossed by the famous Route 66, and a centerpiece of the National Park Service's Mission 66 initiative, Petrified Forest National Park has a history that rivals that of more familiar national parks."
Author Dr. Bill Parker is a vertebrate paleontologist, and the Chief of Resource Management at Petrified Forest National Park. He came to the park as a Physical Scientist, almost 20 years ago, to work on Triassic age archosaurs, study the distribution of these fossils in the Chinle Formation, determine when species appear or go extinct in relation to each other, writing up descriptions of fossils that we find in the park, some of which are new species. Dr. Parker has also been a historian for many years and describes in a compelling fashion Petrified Forest's human stories.
You can order a copy of the book from the park's non-profit partner Petrified Forest Museum Association, www.petrifiedforestbookstore.com, or visit the park's books stores. 
The park is open!
Because of the Coronavirus (COVID-19) epidemic, park operations have been adjusted for the safety of staff and visitors.
Park hours are 8 am to 5 pm, and visitor centers and other facilities are open during those hours with a limited number of people allowed inside at a time. Masks and social distancing are encouraged. You can check on current operations at www.nps.gov/pefo.
Last updated: October 1, 2020