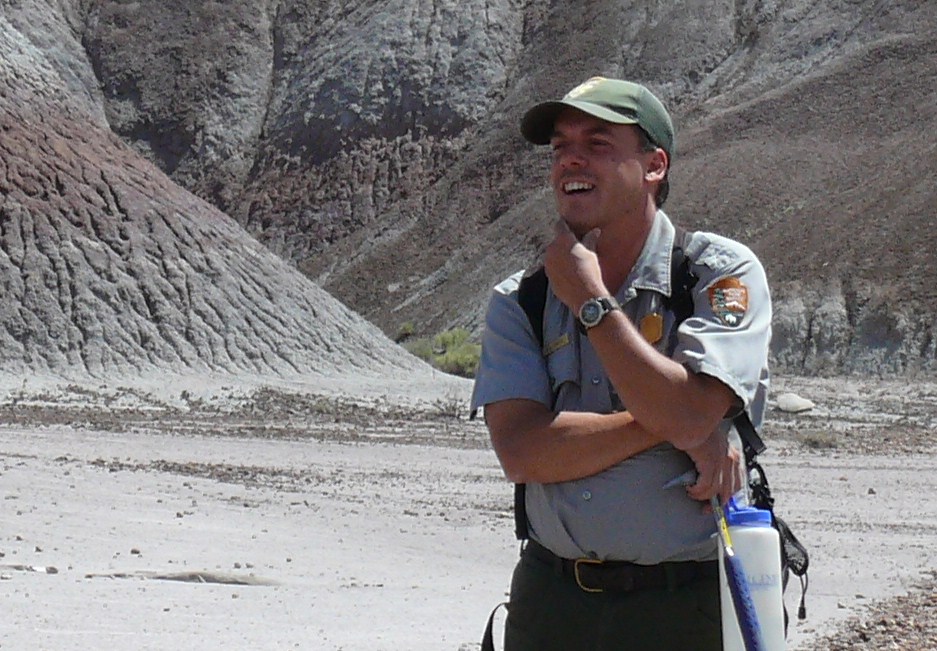 News Release Date:
January 8, 2011
Contact: Lyn Carranza, 928-524-6228 x245
Petrified Forest, AZ—Paleontologist Bill Parker has been selected for the Intermountain Region Excellence in Natural Resource Research Award. This award is received by one member of each of the National Park Service's seven regions in recognition of their achievements in research for resource preservation.
Along with being presented with a plaque, Parker will be nominated for the National Park Service Directors award for Excellence in Natural Resource Research, the highest level of this achievement. Parker will be notified in February if he has won the National Award. If he is the recipient, Parker will travel to the Annual George Wright Society Meeting in New Orleans to receive recognition.
When asked about the significance of the award, Parker wanted to shed light on the Petrified Forest's achievements; "The importance of this award is that it brings recognition to the park, its fossils, and the paleontology program in general for how it helps us better understand the history of life on earth."
Parker's main goal at Petrified Forest is to figure out the geological and paleontological story of the park by interpreting Triassic age rocks and fossils. To get the story of what happened to Petrified Forest, the order of rock deposits have to be determined. This helps researchers understand the events that happened to the park over time. Up until recently, this deposit order was contested by scientists. Erosion has carved out rock as well as laid younger mud and vegetation over the top, making study of older rocks difficult. In 2009 Parker's team accomplished identifying the correct order of Triassic rock deposits. They also noted a dramatic change in the animal and plant life within the rocks where the fossils had completely changed from the older layers to the younger layers. Parker's team was also able to discover the rock layer where this change had occurred. Parker says when dated, this "extinction" coincides with a meteorite strike in what is modern day Quebec, suggesting this may have been a cause. This new work could potentially have a global affect.
Studies of Petrified Forest have sparked global interest within the geologic community for over 100 years. Parker's research along with that of other professionals are helping bridge the gaps of earths time. The information contained within Petrified Forest is crucial in determining what Arizona has experienced between 205 million and 225 million years ago. Their hope is that continuing research into the future will show much success and how critical the information within Petrified Forest is to finding answers to earth's past and present.
For more information call (928) 524-6228, 8:00 a.m. to 4:00 p.m. Mountain Standard Time; or write to the Superintendent, Petrified Forest National Park, P.O. Box 2217, Petrified Forest, AZ 86028; or e-mail the park Superintendent.