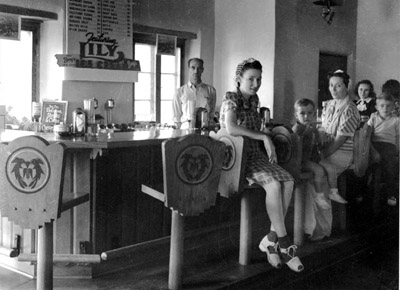 News Release Date:
February 26, 2009
Contact: Lyn Carranza, 928-524-6228 x245
Painted Desert Inn Reproduction Historic Furnishings to be Built for the Lunchroom at Petrified Forest National Park
Petrified Forest—After the rehabilitation of the Painted Desert Inn in 2004, many of the historic furnishings were returned to the inn. The historic furnishings were originally designed by Lyle Bennett, a National Park Service Architect, in 1939. The furnishings were built by Civilian Conservation Corp enrollees based on Bennett's plans. Most of these items retain a high level of integrity and have been conserved for exhibit at the inn, but a many of the items are fragmented and rickety and cannot be displayed. Other items are missing.
One of the key pieces of furniture that is missing is the soda fountain counter and stools. With help from the Petrified Forest Museum Association, donations and other funds, Petrified Forest National Park will be re-creating the soda fountain counter. Unfortunately, photographs, such as the one attached are limited and, while there are some original plans for construction available, there is no information about the color scheme on the backs of the stools.
Petrified Forest National Park is seeking your assistance. If you have photos of the Painted Desert Inn from the 1940s and 1950s that show the room complete with furnishings, we would love to see them. In addition, if you know the location of the stools, counter, tables, etc. we would love to see them as well. They could help us to determine the original color scheme and the hue of the wood stain. Any information would be greatly appreciated.  Please contact Lyn Carranza, Chief of Interpretation at (928) 524-6228 ext. 245.
For more information call (928) 524-6228 weekdays, 8:00 a.m. to 4:00 p.m. Mountain Standard Time; or write to the Superintendent, Petrified Forest National Park, P.O. Box 2217, Petrified Forest, AZ 86028; or e-mail the park Superintendent at e-mail us. Our website has more news and press releases: www.nps.gov/pefo/parknews/newsreleases.htm.