Date:
November 5, 2015
Contact:
Sarah Hervé
, 928-524-6228 ext. 245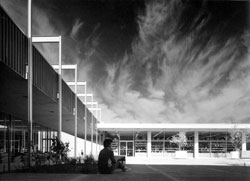 Petrified Forest National Park and Heritage Partnerships Program, Intermountain Region, National Park Service (NPS), have partnered on a project to nominate Painted Desert Community Complex as a National Historic Landmark, the highest level of recognition for an historic place with exceptional value. Located within Petrified Forest National Park, Painted Desert Community Complex is nationally significant for its association with "Mission 66," a nation-wide park redevelopment and improvement program implemented by NPS from roughly 1956 until 1966. Designed by nationally renowned California architects Richard Neutra and Robert Alexander, Painted Desert Community Complex is also an outstanding example of the International style adopted by NPS during that time and represents the agency's use of private architects to promote the shift to modernism in the parks after World War II.
NPS hired Front Range Research Associates, Inc. (FRRA) of Denver, Colorado to complete the nomination. Laurie and Tom Simmons, the principals of FRRA, possess more than 25 years of experience in historical research and completion of historic preservation projects. The firm has completed 13 successful National Historic Landmark nominations, including 6 in the last 5 years. Sub-consultants Amanda Zeman Wallander and Rodd L. Wheaton, both architectural historians and former NPS employees, bring additional expertise to the project. Wallander prepared the successful 2005 National Register of Historic Places district nomination for the Painted Desert Community Complex, and Wheaton is a recognized expert in Mission 66 era architecture.
"We are excited that the Landmarks Committee has agreed to consider our nomination and we look forward to working with FRRA to develop it", said Petrified Forest Superintendent Brad Traver, who has made the rehabilitation of the Painted Desert Community Complex a high park priority in his nearly 5 years at the park. In 2014, the National Trust for Historic Preservation designated the Complex a National Treasure and has been an important partner in its rehabilitation the last two years.
The nomination is expected to be considered by the Landmarks Committee of the National Park System Advisory Board during its Fall 2016 meeting. NPS is confident that the team's combination of knowledge and experience will result in a successful NHL nomination for Painted Desert Community Complex.
 
 
Further information can be found online at:
https://www.nps.gov/pefo/learn/historyculture/pdcc.htm
https://savingplaces.org/places/painted-desert-community-complex#.VjKtdE2FO70