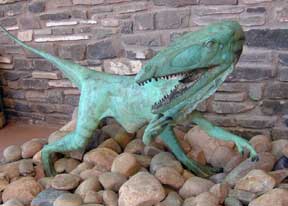 News Release Date:
May 9, 2007
Contact: Hallie Larsen, (928) 524-6228 ext. 274
Petrified Forest National Park Offers New Plaza Exhibits, May 2007
Petrified Forest, AZ — The plaza at the Painted Desert Visitor Center is coming alive with the diverse heritage of Petrified Forest National Park. Best known for its petrified wood deposits, the park is internationally known for other Late Triassic fossil finds, such as very early dinosaurs. One of these early dinosaurs is represented by a patinaed bronze statue of Coelophysis by artist Phil Bircheff, sister to one at the New Mexico Museum of Natural History in Albuquerque. Coelophysis was a small predatory dinosaur that lived during the Late Triassic. Over the years, the statue changed appearance based on ideas of the possible appearance of living Coelophysis, from a forest green to a patterned tan. Today, the statue has been restored to its original patina.
Nearby, another representation of the region's rich history, a 1929 Cadillac reminds us of the heyday of adventure travel in the Southwest. In the 1920s and 1930s, Indian Detour — under the aegis of the Santa Fe Railroad and Fred Harvey Company — offered "detourists" exploration away from the expected into adventure. The female couriers — guides — for Indian Detours were well-educated, mostly college graduates. This car was bought from Indian Detours by a former courier, Lucille Stacy, and her husband, Jack. Today, it is owned by Xanterra, once the Fred Harvey Company, sharing this beautiful piece of Southwestern history with the visitors of the national parks.
For more information call (928) 524-6228 weekdays, 8:00 a.m. to 4:00 p.m. Mountain Standard Time; or write to the Superintendent, Petrified Forest National Park, P.O. Box 2217, Petrified Forest, AZ 86028; or e-mail the park.