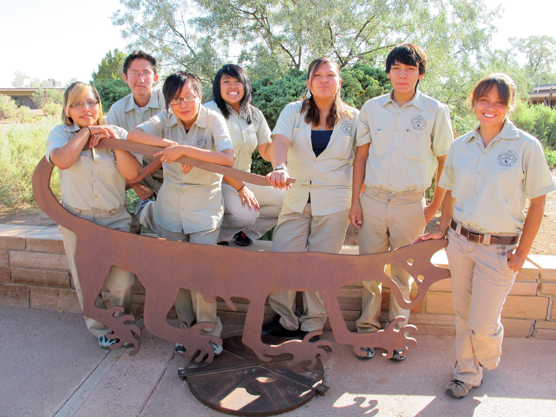 News Release Date:
August 1, 2011
Contact: Sarah Hervé, 928-524-6228 x264
Contact: Todd Hisaichi, 928-524-6228 x273
Petrified Forest, AZ –Petrified Forest National Park launched a new program during the month of July 2011. The program, Native Conservation Corps (NCC), provided opportunities for Native American High School seniors to work and live at Petrified Forest National Park for three weeks. Through a generous grant from the National Park Foundation's "Americas Best Idea ", Native American students explored a variety of career paths, worked alongside national park service staff serving the public and gave presentations to the public about their native heritage.
During their stay at Petrified Forest National Park the students camped in the park and worked as a team to cook meals, complete park projects and create lasting friendships.
Serving as bridges between their communities and the National Parks, these students will continue the project back in their communities by giving presentations about their experiences and the National Parks at schools and other public venues.
"The program (NCC) exceeded my expectations", said Native Conservation Corps participant Alonzo Begay. Thinking they  were going to engage in more  labor-oriented projects ,the participants in NCC were pleasantly surprised by the variety of jobs and experiences available to them at Petrified Forest National Park. Favorites included, working with archaeology staff to analyze rock art, venturing into the park at night with the park's Bio-technician, riding in the patrol cars with law enforcement rangers, working in the park's visitor centers and meeting with professionals from the Grand Canyon and Navajo Nation Environmental Protection Agency. As an unexpected addition to the experience the NCC participants were also called upon to help rescue a visitor suffering from heat stroke in the Painted Desert.
NCC provides Native American youth with an opportunity to learn about and serve the National Park Service mission, part of which is to preserve natural and cultural resources for future generations.
NCC participants will be giving presentations about their experiences at Petrified Forest National Park this fall. Anyone who is interested in hosting or attending a presentation can contact the park.
For information call (928) 524-6228, 8:00 a.m. to 4:00 p.m. Mountain Standard Time (MST); or write to the Superintendent, Petrified Forest National Park, P.O. Box 2217, Petrified Forest, AZ 86028; or e-mail the park Superintendent.