Date:
November 6, 2015
Contact:
Brad Traver
, 928-241-8837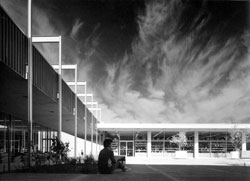 Restoration work will restore the glass storefront to the mid-century modern Painted Desert Oasis building designed by famed modern architect Richard Neutra.
New York, November 6, 2015 – Petrified Forest National Park is among five grant recipients announced today by American Express and the National Trust for Historic Preservation to receive a total of more than $1 million in funding to support the restoration and preservation of five National Treasure sites in parks. The grant will help to begin the restoration of the Painted Desert Community Complex at Petrified Forest.
The Painted Desert Community Complex is an exceptional example of Mission 66, a nationwide infrastructure program undertaken by the National Park Service between 1956 and 1966 that resulted in a radically new Modern style of Park architecture. Prior to this time, visitors' services were scarce or even non-existent in our National Parks and Monuments, which were becoming increasingly popular.
In a surprising move, the Park Service hired architect Richard Neutra, best known for his striking midcentury modern homes in Southern California, to imagine a new complex for Petrified Forest National Park. The community Complex Neutra developed with Robert Alexander represented a new and innovative approach to providing visitor services, offices, maintenance, community services, and employee housing all in one location inside a Park.

This project will take the first big step toward the rehabilitation of the Complex by restoring the glass storefront to the Painted Desert Oasis building which still provides a home, 52 years after construction, for the restaurant and gift shop at park headquarters.
"We are delighted by the generosity of American Express and our partners at the National Trust for Historic
Preservation", said Petrified Forest Superintendent Brad Traver. "This Complex has many needs but nothing we could do would be more important to its eventual rehabilitation than restoring the glass storefront to the Painted Desert Oasis building."
 
"The parks receiving these generous grants from American Express reflect important chapters in our nation's rich history, from Negro League Baseball to architectural Modernism, and the railroad boom to the Civil Rights Era," said Stephanie K. Meeks, president and CEO, National Trust for Historic Preservation. "American Express' timely support of these preservation projects at such diverse places will give more Americans access to appreciate these National Treasures for generations to come."
 "As the presenting partner of the National Treasures program, American Express has pledged to save and sustain historic places that represent our country's rich history," said Timothy J. McClimon, president, American Express Foundation. "The sites we have selected to receive funding reflect a diverse set of experiences as well as the challenges and triumphs of the American people. By preserving these sites, we are helping ensure their legacy and cultural significance for future generations."

The National Treasures receiving grants are:
• Hinchliffe Stadium (Patterson, New Jersey): Completed in 1933, the cast concrete, art-deco style stadium is one of the few remaining sports grounds in the country associated with Negro League baseball. In 1996, the stadium closed, damaged by neglect and vandalism. This grant will preserve two original ticket booths at the entrance to the complex.
• Pullman Historic District (Chicago, Illinois): Built in 1880, the nation's first model industrial town attracted skilled workers to the Pullman Palace Car Company, where the first African-American labor union was born. Today, the district has been declared a National Monument, and showcases a revitalized historic neighborhood that honors the important role the town's residents played in American history. This grant will restore the original multicolored, stained-glass windows at the Hotel Florence.
• Painted Desert Community Complex (Petrified Forest National Park, Arizona): Completed in 1963, the collection of steel, glass, and masonry buildings are one of the earliest examples of modern architecture in a National Park. The complex is still in use today, but limited funding for repairs and maintenance have impaired the condition of the buildings. This grant will restore the glass storefront of the Oasis Building.
• Sweet Auburn Historic District (Atlanta, Georgia): Listed to the U.S. National Register of Historic Places in 1974, the Martin Luther King, Jr. National Historic Site, located in the district, commemorates the leader's birthplace and significance within the American Civil Rights Movement. This grant will fund the preservation of five Victorian and shotgun homes on Dr. King's childhood street.

The fifth grantee will be announced at a later date.

American Express is deeply committed to historic preservation and has provided more than $50 million in grants to preserve more than 500 historic places globally. Since 2013, American Express has served as the Presenting Partner of the National Trust for Historic Preservation's National Treasures program, which aims to save endangered cultural and historic places throughout the United States of America. National Treasures are threatened buildings, neighborhoods, communities and landscapes that reveal the vibrancy of the American story. Past sites American Express has supported through the program, include: Haas-Lilienthal House (San Francisco, California), Nantucket Lightship/LV-112 (Boston, Massachusetts), Miami Marine Stadium (Miami, Florida) and Union Station (Washington, D.C).
###
About American Express
American Express is a global services company, providing customers with access to products, insights and experiences that enrich lives and build business success. Learn more at americanexpress.com and connect with us on facebook.com/americanexpress, foursquare.com/americanexpress, linkedin.com/company/american-express, twitter.com/americanexpress, and youtube.com/americanexpress.
Key links to products and services: charge and credit cards, business credit cards, Plenti rewards program, travel services, gift cards, prepaid cards, merchant services, corporate card and business travel.

About the National Trust for Historic Preservation
The National Trust for Historic Preservation, a privately-funded nonprofit organization, works to save America's
historic places.
Learn more at www.savingplaces.org and connect with us on www.facebook.com/NationalTrustforHistoricPreservation and
https://twitter.com/SavingPlaces
About Petrified Forest National Park
Established in 1906 to protect the fossilized remains of the Late Triassic era but also has a rich human history.
Learn more at:
https://www.nps.gov/pefo
https://www.facebook.com/PetrifiedForestNPS
https://twitter.com/PetrifiedNPS
###
MEDIA CONTACTS:
Jocelyn Seidenfeld, American Express, 212-640-0555, jocelyn.f.seidenfeld@aexp.com
Andy Grabel, National Trust for Historic Preservation, 202-588-6025, agrabel@savingplaces.org
Brad Traver, Petrified Forest National Park, 928-241-8837, brad_traver@nps.gov