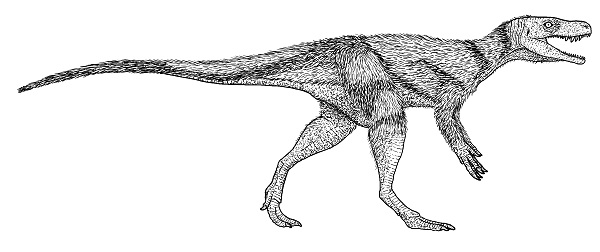 News Release Date:
May 30, 2015
Contact: Dr. William Parker , 928-524-6228 x262
Petrified Forest, AZ—Some 30 years ago, paleontologist Bryan Small discovered remains of a brand new dinosaur to science at Petrified Forest National Park. Chindesaurus bryansmalli was small carnivore, billed at the time as the oldest dinosaur ever found on the planet. Word of this discovery made international news and when "Gertie" (the nickname the fossil became known as) was airlifted out of the park's wilderness on June 6, 1985, it was a major media event.

Help us celebrate the 30th anniversary of this historic fossil airlift by enjoying "Gertie Day" at the park! Join Dr. William Parker, park paleontologist and Adam Marsh, seasonal paleontologist as they display the actual fossils of Gertie, show films about Gertie and the airlift, and provide informal presentations about current research. This event is entirely free and all are welcome.

When: Saturday June 6 from 9:30 am–3:30 pm
Where: the Community Building at Painted Desert Visitor Center (exit 311 off of I-40)

Two films will be shown at the following times:                                                                                              
9:30 am, 11am, 12:30 pm, 2 pm: "Whopping Small Dinosaur" (1986)—this 25 minute film showcases the 1985 discovery of Gertie, the airlift event, and the significance of the discovery.                                                                                         

10:15 am, 11:45 am, 1:15 pm, 2:45 pm: "Triassic Park" (2015)—this 25 minute film provides a snapshot of current paleontological studies at Petrified Forest National Park by world-class researchers.

In between showings of these films, the actual fossils of Gertie will be on display and paleontologists will be available to provide informal presentations and answer questions.