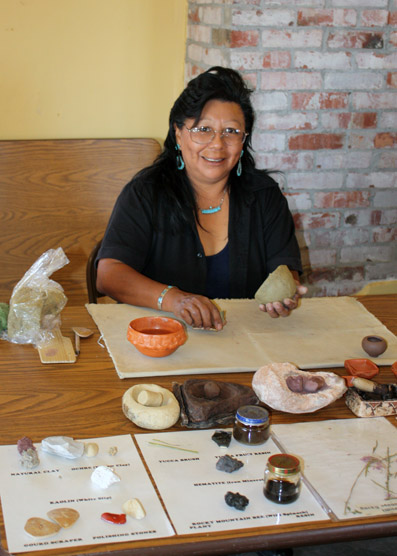 News Release Date:
February 13, 2010
Contact: Hallie Larsen, 928-524-6228 x274
Petrified Forest, AZ—March is Arizona Archeology and Heritage Awareness Month. As part of the celebration, Petrified Forest National Park will be hosting a series of Cultural Demonstrators each Saturday and one Friday in March. This program will provide the opportunity for regional peoples to share their history and traditional arts and crafts in the dynamic setting of Petrified Forest. The goal of the program is to further the public's understanding and appreciation of the rich diversity of human tradition and history in this region.
Cultural Demonstrator Schedule
Saturday, March 6th: The Westika Family: Zuni Fetish Carvers, Potter, and Jewelry-maker.
Saturday, March 13th: Otto Lucio: Zuni Silversmith and Jewelry-maker
Saturday, March 20th: Eileen Yatsattie: Zuni Potter
Friday, March 26th: The Jensen-Yazzie family: Navajo Dancers and Beaders
Saturday, March 27th: Dee Setalla: Hopi Potter
The demonstrators will be at the Painted Desert Inn National Historic Landmark between 10 am to 4 pm.
For information call (928) 524-6228, 8:00 a.m. to 4:00 p.m. Mountain Standard Time; or write to the Superintendent, Petrified Forest National Park, P.O. Box 2217, Petrified Forest, AZ 86028; or e-mail the park Superintendent.