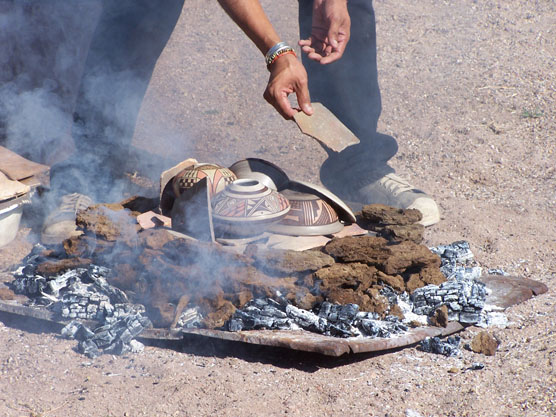 News Release Date:
October 15, 2009
Contact: Hallie Larsen, 928-524-6228 x274
Petrified Forest, AZ — Petrified Forest National Park is pleased to promote awareness of and appreciation for the history and culture of American Indians during National American Indian Heritage Month. This month is dedicated to recognizing the cultures, the events and lifeways, the creativity and achievements of American Indians and Alaska Natives. This year's theme is "Celebrating Tribal Nations: America's Great Partners." The park's closest tribal nation partners include the Hopi, Zuni, Navajo, and White Mountain Apache.
Activities at Petrified Forest include the following:
Cultural demonstrators will be featured each Saturday from 10:00 a.m. to 4:00 p.m. Mountain Standard Time (MST) at the Painted Desert Inn National Historic Landmark. Take this opportunity to observe and discover traditional arts and skills in practice today:
November 7th: Eileen Yatsattie, Zuni pottery making

November 14th: LaDawn Yazzie, Navajo beadwork

November 14th: the Setalla family, which includes Dee and Gwen, Hopi pottery making

November 21st: Otto Lucio, Zuni silversmith and jewelry-making
Take a tour of Puerco Pueblo and Petroglyphs, a site on the National Register of Historic Places. Meet at the trailhead for Puerco Pueblo every day at 3:00 p.m. MST.
Take a tour of the Painted Desert Inn National Historic Landmark and look for the architectural details that reflect the American Indian Heritage of the region, including murals by Hopi artist Fred Kabotie. Meet at Painted Desert Inn every day at 10:00 a.m. MST.
Be sure to visit other places reflecting Petrified Forest's rich American Indian heritage: Newspaper Rock, Agate House, and discover sites throughout the Petrified Forest National Wilderness Area.
The visitor centers have information on other programs being given in November. Program availability is based on weather conditions and staffing.
For information call (928) 524-6228, 8:00 a.m. to 4:00 p.m. MST; or write to the Superintendent, Petrified Forest National Park, P.O. Box 2217, Petrified Forest, AZ 86028; or e-mail the park Superintendent.