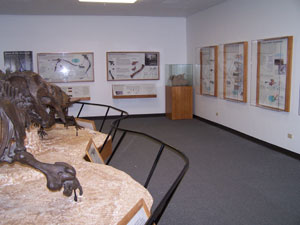 News Release Date:
May 9, 2007
Contact: Hallie Larsen, (928) 524-6228 ext. 274
Petrified Forest National Park Celebrates International Museum Day in May 2007
Petrified Forest, AZ — International Museum Day has been celebrated all over the world since 1977. This year's theme is "Museums and Universal Heritage". The museum collection of Petrified Forest National Park enables visitors and scientists from all over the world to explore the diverse resources of the park, including paleontology, geology, archeology, history, and biology.
Celebrate International Museum Day on May 18 by visiting the brand new displays at the Rainbow Forest Museum. The new exhibits, created by park staff, offer updated information and many of the fossils that have been discovered in the park. Mounts of Placerias, aetosaur, and Postosuchus have a new landform base that appears as an extension of the historic mural painted by Margaret Colbert.
Set aside in 1906 by President Theodore Roosevelt due to its scientific significance, Petrified Forest National Park preserves and protects internationally important resources.
For more information call (928) 524-6228 weekdays, 8:00 a.m. to 4:00 p.m. Mountain Standard Time; or write to the Superintendent, Petrified Forest National Park, P.O. Box 2217, Petrified Forest, AZ 86028; or e-mail the park.