News Release
Petrified Forest Hosts Four Artists-In-Residence for the 2023 Season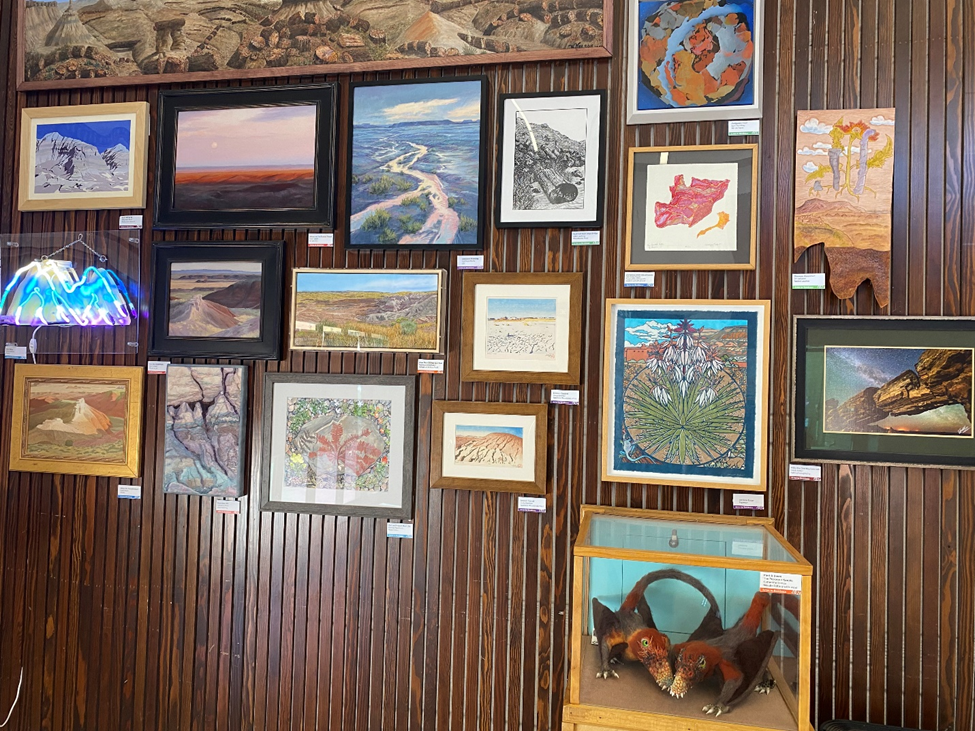 News Release Date:
May 31, 2023
Contact: Hallie Larsen, (928) 524-6228 x274
PETRIFIED FOREST, ARIZONA—Artwork has been integral to the protection, preservation, and public enjoyment of our national parks. Since the park's hundredth birthday in 2006, Artists-in-Residence have offered their creative interpretation of the Petrified Forest. There have been painters, photographers, dancers, composers, musicians, poets, quilters, needle felters—the list goes on in so many ways. Each will donate a piece of art to Petrified Forest, created or inspired by their residency in the park. During their residency, each artist must also offer a presentation, workshop, or demonstration to the public. Be sure to look for the artists when you visit. 
In 2023, Artist-In-Residence at Petrified Forest National Park are David Hunter from June 12-25, Lisa Flowers from Sept. 12-26, Larry Hughes from Oct. 1-14, and Nancy Hershberger from October 16-27.
David Hunter is a landscape, nature, and nightscape photographer who moonlights during the day as a kindergarten teacher. David has been selected for several artist-in-residencies including Bighorn Canyon National Recreation Area, Craters of the Moon National Monument, and most recently in Capitol Reef National Park. David has also photographed conservation projects for several National Parks including Yosemite, Sequoia, and Great Basin. David resides in Fresno, CA in California's great Central Valley where he lives with his wife, two kids, and three cats. David plans to give workshops on photography during his residency. davidhunterphoto.com
Lisa Flowers Ross creates colorful, abstract artworks with fabrics that she hand-dyes using a low-water immersion technique. Nature and daily observation of her surroundings are her main inspirations which are transformed into simple shapes with an emphasis online, color and composition. Her artwork has been exhibited in solo, group, and juried exhibition, nationally and internationally. Flowers Ross has created public artworks for several cities in Idaho and her art is included in private, as well as public collections. She completed previous artist residencies in Idaho, Oregon, Washington, Montana, and Wyoming. The artist lives in Boise, Idaho with her husband and enjoys hiking the foothills, doing yoga, playing Pickleball, cycling, kayaking, and Nordic skiing. https://lisaflowersross.net/
Concentrating on watercolor landscapes, each year, Larry Hughes works plein air in western locales. These field sketches form the basis for larger studio works. Larry has been selected as Artist-in-Residence at six Western national parks and monuments. These competitive positions are highly prized because they provide in-park housing and support, allowing for total immersion in artwork for weeks. The painting subject is often right out the front door! Not surprisingly, these residencies have yielded a huge number of designs, happily waiting to be realized in the studio. https://mgal.org/members/larry-hughes/mediapress/ 
Nancy Hershberger says, "I am a fiber artist, specifically an art quilter. My art involves fabric, thread, a sewing machine, and inks and paints. My quilts look like paintings and are made to hang on a wall, but they are created very much the same way our grandmothers made bed quilts. I have had the honor of serving as Artist-in-Residence at several national parks in the last four years. Every experience is unique; every park reveals its story in its own voice. Petrified Forest National Park represents an environment that I am eager to explore. Everything about the park is completely new and different." Nancy will be offering several displays of her work and informal chats with the public during her residency. https://www.nancyhershberger.com/ 
For more information on the Artist-in-Residence program, visit https://www.nps.gov/pefo/getinvolved/artist-in-residence.htm If you are an artist, think about applying for a spot next year!
Last updated: June 15, 2023