Scientists and Researchers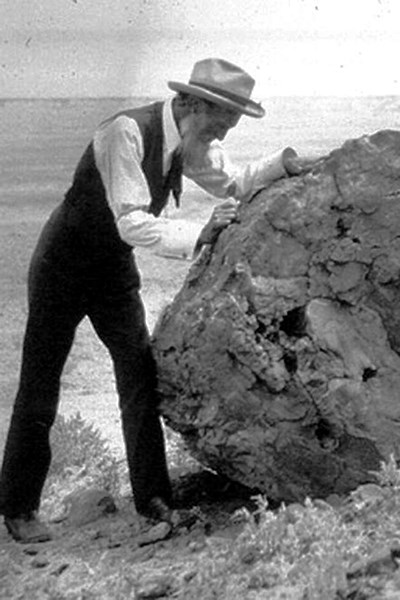 John Muir
Having been told that Arizona would be beneficial to his daughter's health, Muir and his daughters Helen and Wanda moved to Adamana in 1905. He was one of the first to make a small collection the abundant fossils in the area, which ended up at the University of California at Berkeley. He also named the Blue Forest and other features.The Muirs were enthralled with the landscape and its colorful wood desposits. He was influencial in getting President Theodore Roosevelt to set the land aside as a national monument in 1906.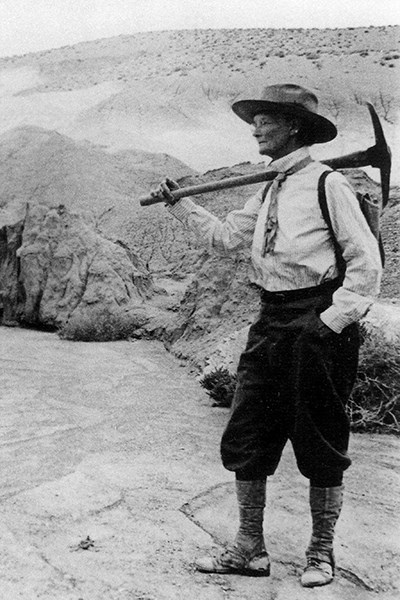 Annie Montague Alexander
Philanthropist, zoologist, paleontologist, and heiress Alexander established the University of California Museum of Paleontology and Museum of Vertebrate Zoology. In the summer of 1921, based on John Muir's small collection of fossils, Alexander and her partner Louise Kellogg initiated a fossil expedition to Petrified Forest. Their findings would inspire further research partnerships with the University of California in Berkeley.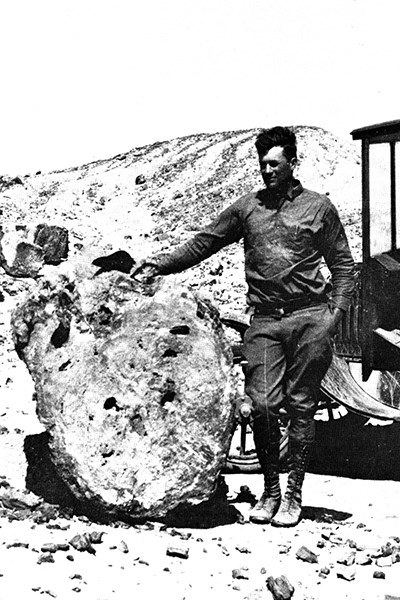 Dr Charles Lewis Camp
Camp was a vertebrate paleontologist who worked with Annie Alexander at the University of California Museum of Paleontology. After seeing the bones she found in Petrified Forest, he made his own trips spending nearly a decade studying Triassic fossil vertebrates in northeastern Arizona. He had several quarries in the Blue Forest (now Blue Mesa) and published a definitive study of phytosaurs in 1930.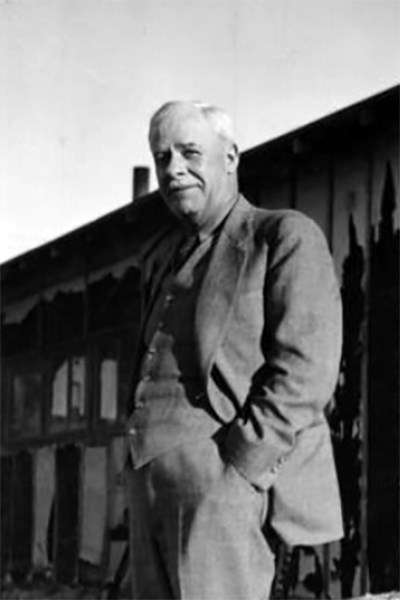 H.P. Mera
Mera, of the Laboratory of Anthropology in Santa Fe, was director of an archeological project at Petrified Forest National Monument in 1933-34. During his field season he led a large scale survey of the monument. He recorded 87 sites within in the monument boundary. Mera was the first to describe Adamana Brown ceramics, suggesting it was the region's oldest ceramic type. Later studies would prove him right—Adamana Brown is the oldest pottery type in Petrified Forest and in all the northern Southwest. Mera supervised professional excavations during his time in Petrified Forest as well. Both Agate House and Puerco Pueblo were partially excavated and stabilized under the direction of C.B. Cosgrove (who Mera had appointed his assistant). The pair also excavated Basketmaker pit houses at other sites in the park.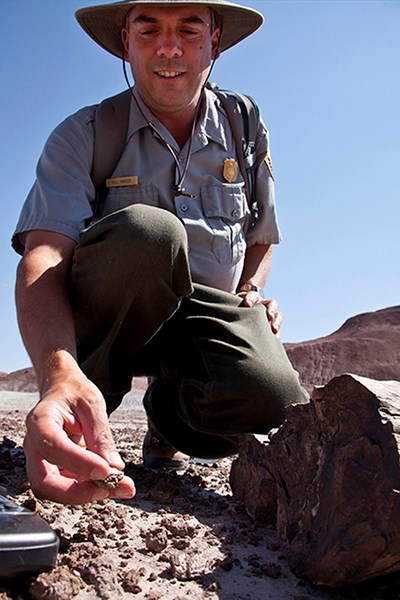 Dr. Bill Parker is a vertebrate paleontologist, currently the Chief of Resource Management at Petrified Forest National Park. He originally came to the park as a Physical Scientist almost twenty years ago, to work on Triassic age archosaurs, study the distribution of these fossils in the Chinle Formation, determine when species appear or go extinct in relation to each other, writing up descriptions of fossils that we find in the park, some of which are new species. Dr. Parker is also a historian. He's been interested in history for many years (including the Civil War), but Petrified Forest's human stories have been very compelling. Read a great article about Bill
here
.
Last updated: September 13, 2020