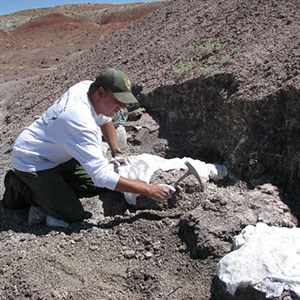 Park Paleontologist, Petrified Forest National Park, Arizona

What is your job, and what do you study?
I am a vertebrate paleontologist working for the National Park Service at Petrified Forest National Park. I have worked at the park since 2001 and prior to that worked as a paleontologist for two years with the U.S. Forest Service. I work on Triassic age archosaurs (relatives of dinosaurs and crocodiles), which are very common fossils at the park. I also study the distribution of these fossils in the rocks, determining when species appear or go extinct in relation to each other. My job is fun because I get to do science at one of the most amazing places on earth, a National Park.